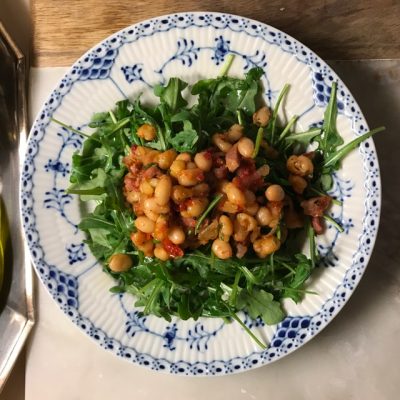 This salad is simple to prepare and tastefully accompanies any entree. We had it with Sous Salt Chicken but you could just as easily pick up a rotisserie chicken from the farmers market. I adapted it from a recipe that Ina Garten made but substituted the prosciutto she used for pancetta. Tonight we are serving it with pizza!
serves 4
ingredients
1 can drained small Italian white beans (you can use any type of bean you like)
2 T olive oil + 1/2 cup olive oil for the dressing
1 shallot
2 ounces sun dried tomato pesto
2 cloves of garlic
2 sprigs of fresh thyme, stripped from the stem
1 t fresh rosemary chopped
1/4 t crushed red pepper flakes
2 ounces pancetta
lemon zest from one lemon
juice from one lemon
pepper to taste
2 c arugula
directions
In a medium skillet drizzle in the 2 T of olive oil. Add the pancetta and cook just until it begins to brown, add the chopped shallot, the sun dried tomato pesto, the drained and rinsed beans, red pepper flake, pepper and season with 1/2 t of the Sous Salt Sun Dried Tomato.  Add the thyme and rosemary and take off the heat. Allow to cool just slightly.
Meanwhile, whisk together the lemon zest, lemon juice with the 1/2 t Sous Salt Sun Dried Tomato with the 1/2 cup of olive oil. Add pepper to taste. Toss the arugula with a small amount of the dressing and place on your serving plate. Don't over dress the arugula. Place the lovely bean mixture gently on the arugula and drizzle with 1 – 2 T of the lemon dressing.
Serve at room temperature.