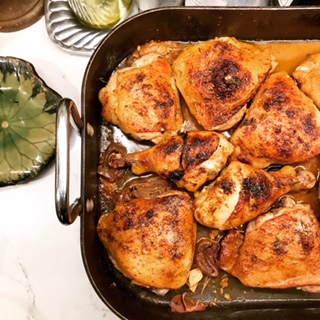 Heavenly Chicken….made easy with any one of our Sous Salts.
Whichever Sous Salt you enjoy this recipe can be flavored with any of them. From the Grey Sea Salt & Herbs to the Olive, Thyme, Lemon or the Porcini Mushroom.  Use the Smoked Paprika or the Sun Dried Tomato. Whichever salt you choose to use you can add a complimentary vegetable to the pan after your flip the chicken. A cup of wine works as well for a wonderful reduction sauce. Thyme, slices of lemon, garlic, almost anything you would like to experiment with will work for this easy chicken dinner. I usually pair it with some roasted brussel sprouts and Sous Salt Rice & Grains.
ingredients
4 Servings
6 skin-on, bone-in chicken thighs
Sous Salt Olive, Lemon, Thyme and freshly ground pepper
1 tablespoon olive oil
4 sprigs thyme
1 c chardonnay wine
1 lemon sliced
2 cloves garlic
5 mushrooms sliced
2 shallots
preparation
Preheat oven to 425°. Season chicken with Sous Salt Olive, Lemon & Thyme  or whichever SousSalt you would like to use and pepper. Put 1 T olive oil in a room temperature cast iron skillet. Place the chicken skin side down on the olive oil. Increase  the heat to medium high and saute until golden brown apx 5 – 8 mins. Flip the chicken and brown on the other side apx 2 – 3 minutes. Remove from pan and deglaze with 1 cup of wine.  Let it bubble up and scrape the brown bits off the bottom of the skillet.  Add the lemon slices, thyme, garlic and transfer skillet to oven and cook apx 15 – 20 minutes.  Remove the chicken after the remaining cook time and let it rest 5 minutes.
ingredients
1 c basmati rice
1/4 c farro
1/4 c orzo
1/4 c quinoa, rinsed (don't skip this step)
1 T olive oil or butter
3 c chicken stock
directions
Place the olive oil or butter in the bottom of a sauce pan. Add the rice, farro, orzo and rinsed quinoa to the sauce pan and toast for about 1 minute. Add the Sous Salt and chicken stock.  Bring to a boil, reduce heat to low, cover and simmer for 15 minutes.  Turn off the heat, leave covered, don't peek and let it sit for 5 minutes. After the rest time remove the lid and fluff with a fork.  At this point you can add some fresh herbs and parsley.
Photo by David Prince