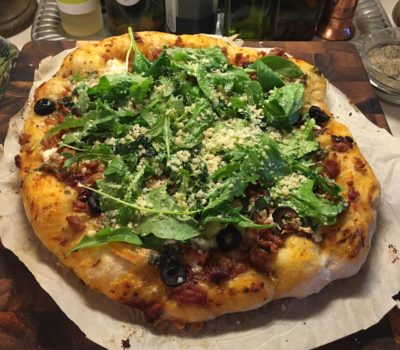 Ingredients
1 tsp active rapid rise yeast
1 tsp honey
1 1/2 c warm water (between 105 and 115 degrees)
3 cups flour
1 tsp Sous Salt Grey & Herb
1 tablespoon olive oil
Mix the yeast with the warm water and honey. Let it bloom for 5 minutes. Put the flour, Sous Salt and the olive oil in the bowl of your mixer. After the yeast has bloomed add it to the mixer and mix until the dough pulls away from the side; then beat at low speed for 5 minutes.
Put the dough in a bowl that you have rubbed with olive oil. Oil the dough lightly, cover and let it rise for at least two hours or doubled in size.
Punch down and roll out to the desired shape or refrigerate until ready to use.  Remember that if you refrigerate it the dough must come to room temperature before you can roll it out.  That will take approximately 2 hours.