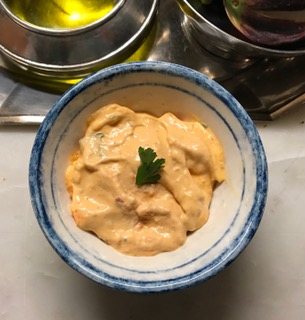 A staple in my kitchen is my aioli. I use it in so many ways, spicy or not, it's a go to enhancement just like my Caesar Salad dressing is. An aioli is basically a garlic mayonnaise. Which means is a vehicle to convey whatever flavors you would like to add. More lemon juice, chipotle peppers, fresh herbs or mustard. It can be served with a grilled artichoke or eggplant, on sandwiches, crabcakes or mixed into a tapenade. You can think it with a bit of water or vinegar and it becomes a salad dressing. Limitless in its scope, I always have a jar in my fridge. The one pictured was my spicy version so I used Siracha for the kick and the color but you could use Cholua, Tabasco or any hot sauce.
ingredients
1 garlic clove, grated
1 t Sous Salt – any one will do – go wild and choose!
1 egg yolk – yes I use a raw egg so if that bothers you add 1 T mustard for emulsifying
2 t fresh lemon juice
3/4 c grapeseed or canola oil
1/4 c extra virgin olive oil
water if you want it thinner
directions
In your food processor grate the garlic into the bowl, add the Sous Salt, lemon juice, egg yolk and pulse. This is the time you can tweak it anyway you want. Adding herbs, mustard, Siracha, Chipotle pepper, etc. Very slowly add the oils through the tube. This has to be done slowly so the emulsification begins. If you pour the oil in all at once you will break the sauce and you won't be happy.  Taste and season accordingly. You might need more salt to taste or a bit more liquid, what ever consistency you desire this is the time to do it.
I store mine in a glass jar in the fridge for no longer than a week….it doesn't usually last that long though!