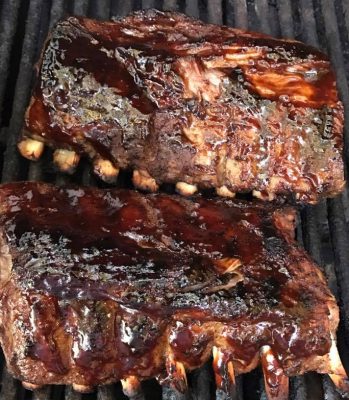 This is an InstantPot recipe and trust me if you haven't used one yet….you don't know what you a missing.  You can either make these scrumptious ribs with the slow cooker or the pressure cooker mode whichever you have time for.
The slow cooker requires 8 hours at low and 4 hours on high. Or in the pressure cooker for 25 minutes. When I do them in the pressure cooker I like to finish them on the bbq or in the oven.
ingredients
2 cups of bbq sauce
1/4 cup of brown sugar
4 Tbsp. of cider vinegar
3 tsp of oregano
1 tsp of Worcestershire sauce
1 Tbsp. of cayenne pepper
1 Tbsp. of chili powder
1 bottle of beer
3 lbs of baby back pork ribs
Sweet and Savory Sous Salt & pepper
directions
Combine all of the ingredients for the sauce. Salt and pepper the ribs with Sweet and Savory Sous Salt. Place 1 bottle of beer in the InstantPot and place the trivet into the pressure cooker.
Close the lid and pressure cook on Manual @ High for 16 – 25 minutes depending on what tender fact you desire. 16 minutes gives you a tender but still a chew to the meat.  25 minutes gives you fall of the bone tender.  Turn off the head and let the Natural Release finish.
Heat your over to 450. Brush the bbq sauce all over the ribs and place them on a baking sheet with tray in the over for 10 – 15 minutes.
If you want to use the slow cooker. Pour the sauce over the ribs and set your cook and temp time according to the time  for 6 – 8 hours depending on the pressure you are using. Slow takes 8 hours. Normal is 6.