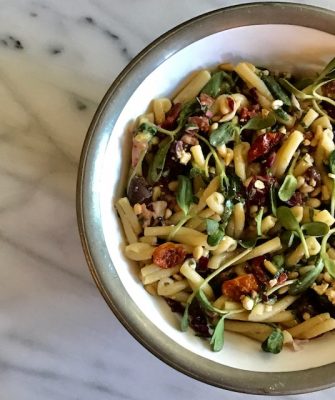 It's almost summer time… which in our Salty house means that pasta frequently becomes the vehicle for the delivery of our evening culinary experience! At room temperature or cold a pasta salad can deliver all the wonderful tastes you need to satisfy your palette. Whether you want to include pancetta or roasted chicken or keep it vegetarian, a one dish meal can be prepared early in the day and enjoyed easily at the end of it.  I love this recipe especially because of the sweet little roasted tomatoes and the feta which becomes creamy and adds a richness to the pasta.  I cook my pasta on the shorter time side of al dente because it will continue to soften with the vinaigrette. If you over cook it then it will become mushy.  Click here for the Roasted tomato recipe. But if you don't have time to roast your own tomatoes buy a nice jar of sun dried tomatoes packed in oil at the market.
ingredients
1/2 c roasted tomatoes (or oil packed sun dried)
2 ounces pancetta
1/2 c Kalamata olives, sliced
1/2 c sliced radicchio
1 shallot diced
1 t Sous Salt Sun Dried Tomato & Pepper to taste
1 T sherry vinegar
1 T lemon juice
1/3 c olive oil
1 clove garlic grated on a microplane
1/2 pound of your favorite dried pasta, cooked
1/3 c crumbled feta
1/2 c pine nuts
4 sprigs of thyme removed from the sprig and chopped
1/2 c chopped arugula
1/2 pea shoots
directions
In the bottom of your salad bowl add the sherry vinegar, lemon juice, garlic, Sous Salt & pepper and whisk in the olive oil.
Saute the diced pancetta in a small skillet. Remove it and add to the vinaigrette in your bowl. Add the feta to the salad and it will gently melt with the warmth of the pancetta.
To the skillet add the pine nuts to toast them. Watch though they burn quick and they aren't cheap! When they are lightly toasted add them to the salad bowl.
Add the remaining ingredients to the bowl and gently toss. Let the salad marry in flavors for a good 20 minutes.