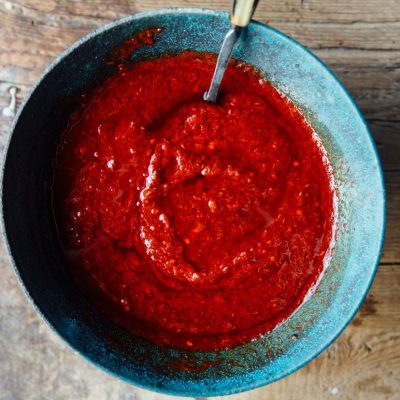 I am always looking for ingredients that make a recipe pop….this recipe for Harissa is just that. A combination of dried chilies bring a rich almost sweet, smoky flavor to this lovely sauce. Not spicy hot just rich chili flavor.  It does that a little prep but once it's made it will keep in the fridge to use as an additive to pasta, salad dressing, as a rub for chicken and pork. Yesterday I added it to creme fraiche tossed it with left over chicken and rolled it in taquitos! Voila! Meal in minutes with a previous days prep. Make sure that your dried chilies are supple and bendable which means they have been freshly dried.
ingredients
5 ounces dried chilies (I use Ancho, Pasilla and Guajillo)
1 t Sous Salt Chipotle
1 t coriander
1 t cumin
3 garlic cloves, peeled and chopped
2 T olive oil + more for storing
2 t fresh lemon juice
2 sun dried tomatoes
directions
Make sure that your dried chilies are supple which is indicative of them being freshly dried. Soften the chilies by placing them in a bowl and covering them with a boiling cup of chicken stock. You might have to weigh them down because they float. Let them stand for 30 minutes.
When they have softened remove the stems and seeds. Reserve the liquid. Add the chilies to the food processor. Add the spices, garlic, lemon juice, cilantro, sun dried tomatoes and Sous Salt & pepper.
When the mixture comes together drizzle in the olive oil and process to a thick paste. Scrape down the sides of the bowl and if you like it thinner add some of the reserved soaking liquid.
Adjust to your taste it might need additional Sous Salt or lemon juice. Use it immediately or top it with a thin layer of olive oil and refrigerate up to a month. Adding a fresh layer of olive oil every time you use some of it.
.