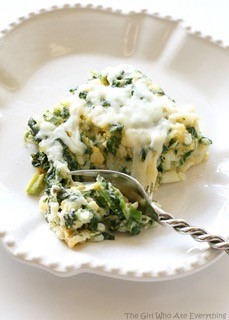 Weather is chilly and wet …. how about a comforting cheesy dinner. You can add some browned sausage or ground meat to this bake to make it a complete dinner or serve it with the Sous Salt Chicken or Furstman Family Meat Loaf.
Ingredients:
1 10 ounce package frozen spinach, thawed, drained and squeezed
2 c of cooked basmati rice (it adds a nutty flavor)
2 T dijon mustard
2 c + 1/4 c reserved for topping of shredded gruyere or fontina cheese
3/4 c parmesan cheese or queso fresco if you use the jalapeno jack
2 green onions, chopped
3 eggs, whisked
2/3 c milk
1 glove garlic
1 t Sous Salt Sun Dried Tomato or Grey Salt & Herb (actually any of the salts would work with the exception of the Sweet & Savory)
Directions:
Preheat the oven to 350 degrees and grease an 11 x 7 baking dish. Combine in a large bowl the spinach, rice, 2 c of the cheese, Parmesan cheese, onions, garlic, mustard, eggs, Sous Salt, pepper and milk until combined.
Transfer the mixture to the baking dish bake for 25 minutes then top with the remaining cheese and finish baking for 5 minutes until bubbly and golden brown at the edges.