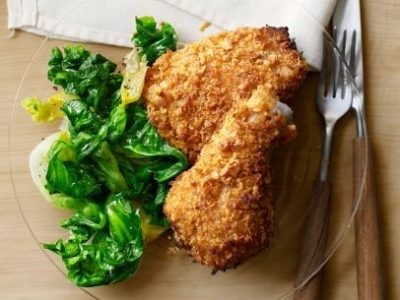 Made this oven baked chicken the other night and not only was it crispy and moist but much less messy than fried chicken.
I used Grey Salt with Herbs & Garlic. But you could substitute any of the salts in this recipe. I marinated the chicken in buttermilk before I coated them however if you don't have the time just flour, dip and roll!
ingredients
marinade:
1/2 c buttermilk
2 teaspoons Sous Salt Grey Herb (or Sun Dried or Olive Thyme or Sweet & Savory)
1 clove garlic, smashed
4 chicken thighs and legs, split
chicken prep:
2 c panko bread crumbs
2 t Sous Salt Grey Herb (or Sun Dried or Olive Thyme or Sweet & Savory)
fresh ground pepper
1 T Dijon mustard
2 eggs
1/4 c parsley, chopped
1/4 c white wine
4 springs of thyme, stripped from the stem
olive oil for drizzling
directions
So if you have the time to pop the chicken in buttermilk for at least an hour….mix the Sous Salt, smashed garlic with the buttermilk in a large plastic bag and add the chicken to the bag. Refrigerate it while it marinates. Remove and pat the chicken dry.
Preheat your oven to 400 degrees. Line a large rimmed baking sheet with aluminum foil. Place a large wire rack over the foil.
If you don't have the time to marinate in the buttermilk not to worry just rinse your chicken and pat it dry. Set up your 3 dredging stations.
In the flour add 1 tsp of whichever Sous Salt you have chosen. A few grinds of fresh pepper.
Beat the two eggs in another station add the mustard and 1/4 c white wine.
In the third station add the parsley and thyme to the panko bread crumbs.
Working one piece of a time dip the chicken in the flour…onto the egg mixture and then rollin the panko mixture. Place the chicken on the rack and finish the rest of the pieces. Drizzle the coated chicken with a little bit of olive oil.  Place the tray in the middle of the oven and bake for 35 – 40 minutes until golden brown and crispy.  Let it rest for 5 minutes before serving.