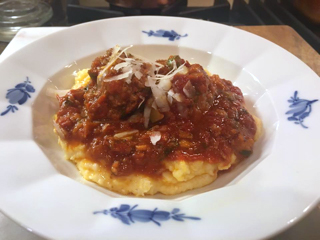 Recently I posted a recipe for a aromatic, slightly sweet tomato sauce that is versatile and easy to prep.  That sauce is terrific with these baked meatballs. I used pork and veal but you could easily use dark turkey thighs.
ingredients:
1 lb ground veal
1 lb ground pork
1 3/4 c panko bread crumbs
1 teaspoon Sous Salt Sun Dried Tomato
1 cup grated Parmesan
2 cloves garlic minced
1/4 c chopped parsley
2 T chopped fresh thyme
1 teaspoon Sous Salt Grey & Herb or Sous Salt Porcini Mushroom
2 large eggs beaten
3/4 c red wine
olive oil for drizzling
Tomato Sauce recipe
Preheat the oven to 400. Line two baking sheets with parchment paper. Put the bread crumbs, Sous Salt Sun Dried Tomato, parsley, thyme, garlic, Sous Salt Grey & Herb, 2 beaten eggs, 3/4 c wine, veal and pork in a large mixing bowl and gently mix the ingredients. Using a medium size ice cream scoop form the meat balls and place them on the baking sheet. Drizzle with olive oil and bake for 35 – 40 minutes. This recipe will make 24 medium meatballs so if you only need 12 you can freeze half of them or use them for meatball subs!
After the meatballs are cooked put them in the tomato sauce for 20 mins to finish cooking. If you are going to use all 24 meatballs I would double the tomato sauce recipe. Just as an aside. If the sauce is too thick thin it down with either water or chicken stock until you have the desired consistency you like.  Some people like a thicker sauce some prefer a thinner sauce.soussalt.
In our house Amy is our Polenta Queen. So this is her recipe…tried and true!
creamy polenta
ingredients:
1 c polenta
2 c chicken stock
2 c milk
1 c grated italian fontina cheese
2 T creme fraiche
1 t Sous Salt Olive Thyme & Lemon
Bring the chicken stock, salt and milk to a roaring bubble and whisk in the polenta. Gently simmer the mixture stirring frequently for apx 20 mins. It will bubble and thicken nicely. Add the cheese and creme fraiche. If you would like the mixture to be thinner you can add more chicken stock.
Place a spoonful of the polenta in a bowl, place the meatballs and sauce on the polenta and sprinkle with parmesan cheese.