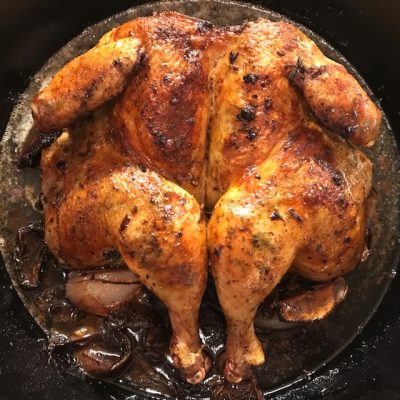 Once your roast a spatchcock chicken this way you will never go back to the old roast chicken method again…I promise. The beautiful part about roasting a chicken that has been butterflied is that none of the pieces are over or underdone. The skin is perfectly crispy with a beautiful golden brown color from the compound herb butter.  You can substitute olive oil for the butter but it will have a different flavor.
Don't skip the step of rubbing the herb mixture under the skin it really does add flavor to the chicken.
ingredients
1 4 lb butterflied chicken, backbone removed
2 1/2 tsp. Sous Salt Grey Herb
1/2 tsp. freshly ground pepper
1 1/2 tsp. chopped fresh chives
1 Tbs. chopped fresh thyme
1 Tbs. chopped fresh oregano
2 Tbs. chopped fresh flat-leaf parsley
2 sprigs of rosemary
2 tsp. finely grated lemon zest
1 clove of garlic minced
6 Tbs. butter, at room temperature
4 shallots cut in half
2 Tbs. olive oil
1/2 c white wine
chopped parsley
1/2 c chicken stock
2 Tbs. butter
directions
In a small bowl, stir together the 2 T of Sous Salt Herb & Garlic, chives, thyme, oregano, parsley, tarragon, lemon zest and minced garlic. Add the butter and stir until the mixture is throughly combined.Gently lift the skin of the chicken and rub the meat with some of the herb butter mixture. Rub the outside of the chicken with the rest, evenly distributing the butter mixture. Let the chicken air dry in the fridge for at least 30 minutes or up to the day before.Preheat an oven to 450°F  Place a large black iron skillet in the oven to preheat. Carefully take the skillet out of the oven. Add 1 T of olive oil to the skillet and place the chicken in, breast side up. Toss the shallots with 1 T of olive oil and 1/2 t of Sous Salt Herb & Garlic. Place the shallots in the skillet next to the bird.Roast the chicken in the middle of the oven until the skin is well browned and an instant-read thermometer inserted into the thickest part of the thigh, away from the bone, registers 170°F in the thigh, 150 in the breast. This should take between 35 and 45 minutes depending on the size of your bird.

Transfer the chicken to a carving board, cover loosely with aluminum foil and let rest for 10 minutes. Add the white wine to the skillet scraping up any bits. Reduce it a couple of minutes and add 1/2 c chicken stock. Bubble it up a bit and add 2 T of butter. Whisk it together for a pan juice and sprinkle with some fresh chopped parsley.

Carve the chicken and serve immediately with the shallot wine juices.