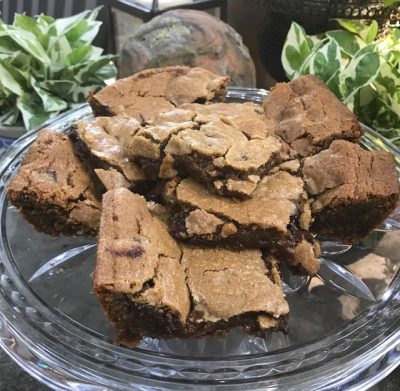 I know most peoples downfall are brownies but mine are blondies… love them… chewy with a hint of coffee flavor, the lusciousness of a dark brown sugar dotted with little Heath Bar and chocolate chips. When they come out of the oven they are warm and gooey perfect with a scoop of ice cream. I love them the next day after they've been in the fridge. The chocolate chips harden providing a perfect chocolate crunch to the blondie.
As with all of my recipes feel free to alter the chips with nuts or different chocolate bits. I use Dark Muscovado Brown Sugar. Its rich molasses flavor adds an almost butterscotch flavor to the Blondie and blends beautifully with the Espresso powder to produce almost a mocha taste.
ingredients
2 sticks of butter (softened to a sour cream consistency)
2 cups Muscovado dark brown sugar
1 t Sweet & Savory Sous Salt
1 t vanilla
2 cups flour
1 T Espresso powder
2 eggs room temperature
1/2 cup Heathy Bar pieces
1/2 cup Chocolate chips (whichever type your prefer ~ I like dark chocolate)
For a lighter blondie you can add 1 t baking powder
directions
Put the softened butter in a bowl and add in the brown sugar. Whisk them together until they are light and fluffy. Add the eggs, one at a time just to incorporate. Add the vanilla and Espresso powder, whisk to combine.
In a separate bowl add the flour (reserving 2 T to dust the chips with…this keeps the chips from sinking to the bottom while they bake), Sous Salt and baking powder if you decide to use it. Add the flour mixture to the butter/sugar mixture. Stir just to incorporate. Toss the chips with the 2T of flour then add them to the finished mix.
Bake for 25 to 30 minutes in a 350 degree oven. Don't over bake them they will be quite moist in the middle, just barely set.