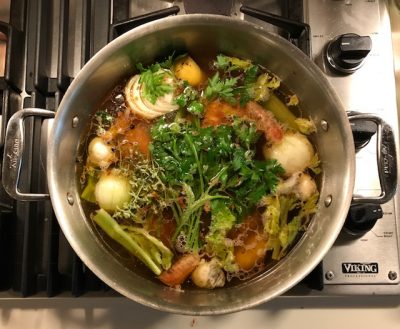 Homemade chicken stock is very easy to make and without a doubt more flavorful than anything that comes in a box! You can season it any way you like. I add a few dried porcini mushrooms and a dried Guajillo pepper for an added depth of flavor. The chicken is browned in this particular recipe so it renders a darker, richer stock. If you want a light color stock don't brown the chicken. The stock is very easy and quick to prep….it just needs to simmer a bit on the stove so start it when you are going to be around for a morning. Trust me when I tell you it is so flavorful you will never buy the box stuff again!
ingredients
4 chicken thighs, bone in
2 T olive oil
1 head of garlic, cut in half
2 shallots or 1 large onion
2 carrots, cut in half
2 ribs of celery, cut in half
1/4 ounce dried porcini mushrooms, optional
1 dried Guajillo pepper, optional
1 T Sous Salt
1 dozen peppercorns
1 c white wine
8 c water
4 sprigs parsley
4 sprigs fresh thyme
2 bay leaves
directions
Generously season each piece of chicken with Sous Salt. Heat the olive oil in a large pot and add chicken pieces in a single layer, skin side down, to brown each piece. After about 8 minutes, turn each piece and brown them on the second side. When the chicken pieces are a deep brown on both sides, place the onions, garlic, celery, and carrots in the pot, season with a bit of Sous Salt and cook for another 5 – 8 mins to gently brown the vegetables.
Add the wine and with a wooden spoon, scrape the bottom of the pot to remove any caramelized bits. Cook over high heat until about 1/2 cup of wine remains, about 5 minutes. Add the water, the herbs, the peppercorns and the bay leaves. When the water comes up to a simmer, skim off any foam or impurities that rise to the top. Lower heat to maintain a simmer.
Simmer the broth uncovered for 2 1/2 to 3 hours, occasionally skimming any foam and impurities that rise to the top. The chicken meat will be tender and falling off of the bone. Remove the chicken pieces from the broth and reserve. Pour the broth through a colander into a large bowl. Reserve the chicken for whatever you would like….tacos, chicken pot pie, chicken salad… I give the carrots to the pups. They love them. I remove the garlic from the bulbs and keep it in a jar with some olive oil to cook with.  The broth doesn't have any additional salt added to it except what you seasoned the chicken with and what you sprinkled on the vegetables. That way you can use it in recipes and salt accordingly when you cook with it.