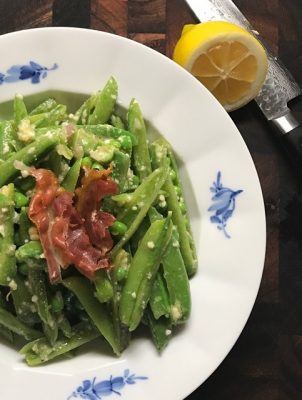 As a home cook, I am constantly inspired by the chefs of the world. I read books, watch cooking programs, browse the internet always searching for tasty dishes that we can easily cook at home. More often than not I will tweak a recipe adjusting for my families taste and at times simplifying it for time and convenience purposes. With all our lives so full and busy time is a rare commodity. This recipe from Ina Garten is perfect just the way she did it !
ingredients
1/4 pound pancetta, paper thin slices
Sous Salt Lemon Thyme & Pepper
1 lb sugar snap peas, trim the top stem
1/4 c shallot (she used red onion)
1/2 extra virgin olive oil
2 T champagne or white wine vinegar
2 T freshly squeezed lemon juice
5 T freshly grated Parmesan cheese
directions
Preheat the oven to 450 degrees.
Place the pancetta slices on a baking rack set in a sheet pan and roast for 8 to 10 minutes until crisp. Remove from the oven and set aside to cool.
Meanwhile, bring 2 to 3 quarts of water to a boil in a large pot and add 1 tablespoon of salt. Fill a large bowl with ice water and have a sieve or colander ready in the sink. Put the snap peas into the boiling water for only 10 or 15 seconds, drain, and put immediately into the ice water. Cool completely and drain. Cut each snap pea in half lengthwise and place in a large bowl.
Place the snap peas in a large bowl and add the shallot.
To make the vinaigrette, whisk together the olive oil, vinegar and lemon juice. Pour enough vinaigrette on the snap peas to moisten. Crumble the pancetta over the salad and add 1 teaspoon of the Sous Salt Thyme, Lemon and the pepper. Add the Parmesan and toss well.