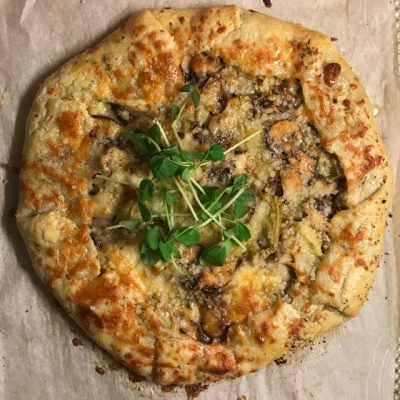 Terrific go to recipe. I've included the recipe for your own dough if you so desire making it yourself. However you can easily use store bought pie crust (there are some great products on the market now a days) or you can use a puff pastry sheet if you want a flaky crust. I love the unconventional look of a galette and you can put almost anything in them….with the exception of liquids! In this recipe I did a quick saute of my mushrooms, artichokes and shallots to give them some color and to have them give up any moisture or liquid they may have…you can skip that part if you wish. Make sure though that you drain and pat dry the artichoke hearts if you use the can or frozen ones.
ingredients
crust:
1 1/4 c flour
3/4 t Sous Salt Porcini Mushroom
1 stick ice cold butter (I cut my buttter in cubes and place it in the freezer for 5 mins)
1/4 c ice water
1 egg yolk beaten for the egg wash
galette:
1/4 c creme fraiche
1 clove grated garlic
1 t Sous Salt Porcini Mushroom & pepper to taste
1/4 c parmesan cheese + 1 T
1/2 c fresh spinach leaves (apx amount feel free to use more)
4 crimini mushrooms sliced
1 good size shallot to render apx 1/4 c
1 box of frozen, defrosted, drained artichoke hearts
1/2 c gruyere cheese grated
2 sprigs fresh thyme
1/4 c chopped parsley
directions
Using your food processor, combine the flour, Sous Salt Porcini Mushroom and cold butter. Pulse a few times then drizzle in the ice water just until the pastry comes together. Depending on your humidity that day you may need a little more or a little less. (Which is why I suggested buying dough…this should be a go to recipe and if you don't like to make pastry dough…buy it!)
Wrap the dough in plastic and let it rest for 30 mins.
Roll out the dough on parchment lined baking sheet to apx 1/4″ thickness.
Preheat the oven to 400 degrees.
galette:
While your dough is chilling…saute the diced shallot, mushrooms and artichoke hearts for 2 – 3 mins just so they have a little color and give off their liquid. Let them cool slightly.
Mix the creme fraiche with the parsley, thyme leaves, a pinch of Sous Salt Porcini Mushroom and the Tablespoon of Parmesan cheese. Spread this mixture on the pie dough that you've rolled out. Leave apx 2 inch boarder that you will fold up and over the vegetables. Place the fresh spinach leaves on the bed of the creme fraiche mixture. (You can use frozen spinach if you prefer but remember to drain it thoroughly or add it to the saute pan when you cook the shallot, mushroom, artichoke mixture…remember liquid is not a galettes friend). Sprinkle some parmesan cheese and gruyere on the spinach and add the saute vegetables to the top of the spinach. Sprinkle the rest of the gruyere on the filling and fold over the boarder of the dough. Brush the crust with your egg wash and sprinkle the rest of your parmesan cheese and  a pinch of Sous Salt Porcini Mushroom salt and pop it in your oven on the middle rack.
Bake for apx 30 – 40 minutes until the crust is lovely and golden brown. I put some pea shoots on the one I served but you could easily make an arugula salad and dress it with that. Sprinkle a bit more parmesan cheese right before you serve.
1 1⁄4 cups Baker's Corner all purpose flour
3⁄4 teaspoon Stonemill Essentials sea salt
1 stick (1/2 cup) very cold Countryside Creamery unsalted butter; cubed and immediately added
1⁄4 cup cold water
 + more if needed
1 egg yolk; slightly beaten (for egg wash)
For the galette:
¼ cup Friendly Farms sour cream
½ garlic clove, finely grated
½ teaspoon finely grated lemon zest
salt and pepper
½ to 1 cup fresh Simply Nature baby spinach
2 to 3 baby bella mushrooms, sliced
5 pieces artichoke hearts from a can
½ cup Happy Farms shredded mozzarella cheese
Happy Farms Shaved Grana Padano cheese