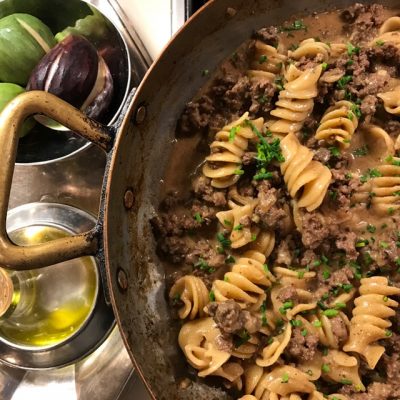 I believe that ground meat gets a poor wrap at times. Primarily because when you buy it at the market you never know what cut of meat they grind up! The best way to control what you are buying is to purchase ground meat that is specifically identified. For example ground chuck or ground sirloin not just ground beef.
Make certain it is great quality because it is the base and bedrock for the layering of your flavors.   I caramelized the shallots in this recipe which added a sweetness to the pasta sauce and I used creme fraiche but you can easily use sour cream.   Cooking the pasta right in the sauce allows it to thicken up naturally from the starch in the pasta. If it becomes too thick you can add a bit of half and half or some additional beef stock to thin it to the consistency that you like. Pasta is like a sponge and soaks up liquid as it sits. So if you don't serve it right away it will continue to thicken up. So right before serving adjust it to the consistency that you would like. I used the Sous Salt Porcini Mushroom for this dish but any of the Sous Salts will work. Our new Fennel & Shallot would be terrific if you were using ground pork or turkey.
ingredients
1 lb ground chuck
8 ounces dried pasta I used rotelli
Sous Salt Porcini Mushroom & Pepper
4 c beef stock
2 large shallots sliced
2 T olive oil
1 T tomato paste
1/3 c creme fraiche or sour cream
1/4 c chopped parsley
3 sprigs of thyme, leaves removed from the stem
directions
Saute in 1 T of olive oil the chuck with the Sous Salt Porcini Mushroom and pepper until it's nicely brown then remove the beef from the skillet.  Add the remaining tablespoon of olive oil in the pan and add the sliced shallots, season with 1/4 t of the Sous Salt Porcini Mushroom and pepper. Let them brown nicely as they sweeten while they cook. After about 5 minutes add the tomato paste and stir it in with the shallots until it browns nicely, about 2 minutes. Add the beef back into the skillet. Add the pasta and stir the pasta around to coat in the lovely juices of the onions and beef.  Once it's coated add the 4 cups of beef stock and let it simmer gently for about 10 minutes until the pasta is tender. I partially cover my skillet to keep some heat on the top recycling back to evenly cook the pasta. Once the pasta is cooked add the creme fraiche, parsley and thyme. Let it simmer for apx 2 mins on low and it will thicken and become a wonderful velvety sauce.  You can adjust the consistency of the sauce to your taste by either adding some half and half or more beef stock.