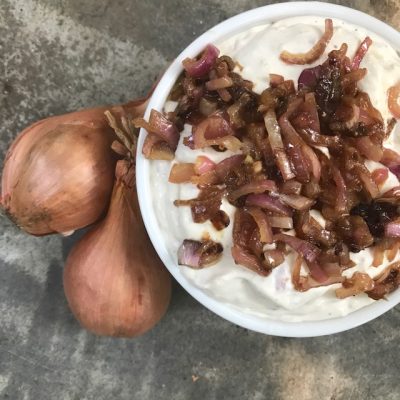 This is a wonderfully easy and flavorful dip for any occasion.. and if you have some left over incorporate it into your weeknight dishes. I use dips and spreads  in a lot of my cooking as "already prepped" bonus additions.  So if you have extra onion dip left over from your Sunday dinner party…thin it out and use it as a salad dressing. Or add it to sauteed mushrooms and toss it in a pasta. Have ground chicken, beef or pork…saute the ground meat and add the remaining dip to this, serve it over rice and you have a perfect weeknight meal. For those of you who follow my recipes regularly I frequently add dips and sauces like hummus, pestos or sauces to thicken curries and stews to thicken without needing flour.
ingredients:
1 1/2 c of sliced shallots
1 T olive oil
1 T butter
1 t Sous Salt Porcini Mushroom & pepper to taste (you could also use our Pinot Noir Salt)
1 T fig jam
1 T Sherry vinegar
1/2 t garlic powder
3 ounces room temperature cream cheese
1/2 c sour cream
1/4 c creme fraiche (if you don't have creme fraiche you can just double the mayo)
1/4 c mayonnaise
directions
In a large saute pan add the olive oil, butter and shallots. Sprinkle 1/2 t of the Sous Salt on the shallots. Saute them for 5 minutes, watch them though because they cook much faster than onions. Toss them occasionally.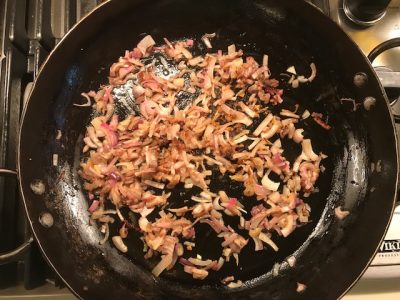 After they have softened add in the fig jam spreading it gently around the shallots. Saute them for another 3 minutes until they are caramelized and golden brown. When they are desired consistency and color you would like add the sherry vinegar to the pan and deglaze for 30 seconds. Remove the shallots from the skillet and let them cool to room temperature. (If you want some of the shallots crispy for the top of the dip you can saute them to the desired texture)
While the shallots are browning, whip the cream cheese with the mayonnaise, creme fraiche, garlic powder, the other 1/2 t Sous Salt Porcini Mushroom and pepper to taste. Fold in 3/4 of the onion mixture until incorporated. Sprinkle the remainder of the shallots on the top of the dip.