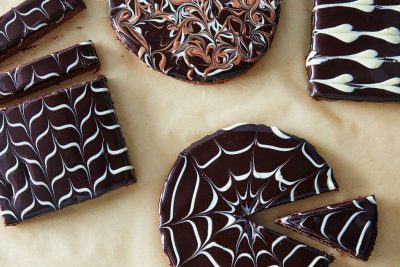 There are two chocolate cakes in my "go to" recipe file. Both are from Ina Garten and both are incredibly simple and gorgeous. One is her Beatty's chocolate cake that I put a cream cheese frosting on. The other is this chocolate ganache cake. You can do the chevron pattern she finishes the cake with or just the ganache topping…the only thing I add is our Sous Salt Pinot Noir.  The salt adds a lovely rich, tangy and colorful finish to the cake.
ingredients:
1/2 t Sous Salt Pinot Noir
ganache:
Preheat the oven to 325 degrees. Butter and flour an 8-inch round cake pan, then line the bottom with parchment paper.
Cream the butter and sugar in the bowl of an electric mixer fitted with the paddle attachment until light and fluffy. Add the eggs, one at a time. Mix in the chocolate syrup and vanilla. Add the flour and mix until just combined. Don't overbeat, or the cake will be tough.
Pour the batter into the pan and bake for 40 to 45 minutes, or until just set in the middle. Don't overbake! Let cool thoroughly in the pan.
For the ganache, cook the heavy cream, chocolate chips, and instant coffee in the top of a double boiler over simmering water until smooth and warm, stirring occasionally.
Place the cake upside down on a wire rack and pour the glaze evenly over the top, making sure to cover the entire cake and sides. You can tilt the rack to smooth the glaze.  Do not refrigerate. At this point you can do the chevron pattern that Ina does on her cake. I've included her notes below. I finish the cake with a sprinkling of our Pinot Noir Sous Salt.
Cook's Note
Ina decorated the cake with a chevron pattern in this episode. For the icing, she mixed 1 3/4 cups confectioners' sugar with 3 tablespoons water in a small bowl and placed the mixture in a pastry bag. Using a small round pastry tip, she piped 6 equally spaced straight lines of icing across the top of the cake. Using the back side of a small knife, she lightly drew 7 evenly spaced straight lines in the ganache perpendicular to the lines of icing, alternating the direction for each line.
This recipe is from Ina Garten with the exception of our Sous Salt addition.
Photo credits go to Food52.