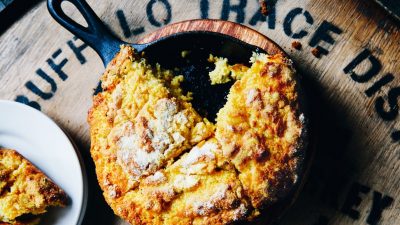 Many years ago Banderas restaurant moved into Los Altos. Besides having a phenomenal roast chicken they had the best coleslaw with peanuts and a too die for corn bread. Now there have been a few "Banderas Corn Bread Recipes" floating around on the internet but none of them hit home to me. So when I tried this one from Bon Appetit I was thrilled…this recipe not only was moist but achieved the crunchy top that I loved. Creative liberty taken once again morphed with Sous Salt!
ingredients
1 1/4 c all purpose flour
1 c fine grind cornmeal
1 T baking powder
1 1/2 t Sun Dried Tomato Sous Salt
4 large eggs
15 ounce can of creamed corn
1/2 c Cheddar cheese
5 ounce can of mild green chilies, drained and chopped
1/2 c Monterey Jack cheese
1 and 1/2 sticks room temperature butter
2/3 c sugar
Nonstick vegetable oil spray
preparation
Place rack in middle of oven. Set skillet on a rimmed baking sheet, place on rack, and preheat oven to 400°. Whisk flour, cornmeal, baking powder, and Sous Salt in a small bowl to combine. Lightly beat eggs in a medium bowl to blend; whisk in creamed corn, chiles, cheddar, and Monterey Jack.
Mix butter and sugar in a large bowl with a wooden spoon just until butter absorbs sugar but butter is still in small pieces. Add egg mixture and mix until just combined. Mix in dry ingredients until barely incorporated.
Remove skillet from oven and lightly coat with nonstick spray. Scrape in batter (it should sizzle on contact and stay slightly mounded in the center). Sprinkle the top with a bit of Sous Salt. Bake cornbread until top is golden brown and springs back when gently pressed, 35–45 minutes. Let cool 10 minutes before serving.
Recipe by Hillstone Restaurant Group
Photograph by Eva Kolenko