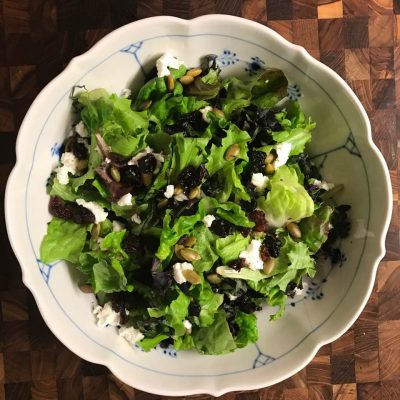 When the weather warms hearty salad bowls are wonderfully satisfying without the heavy feeling of a full meal. The inspiration for this salad came from an original recipe I found by "double thyme" through Food52. I made their salad and thoroughly enjoyed. Morphing it as we all do with recipes this is quick, easy to prepare with a slightly sweet and tangy dressing. It's great with a grilled chicken breast seasoned with our Sous Salt Grey with Herb or a skirt steak seasoned with Sous Salt Smoked Paprika. It's also lovely with a bowl of lentil or potato leek soup. Add cooked quinoa, lentils or farro/barley to the salad to give it a chewy nutty taste.  Salads are a wonderful one bowl treat!
ingredients
1/2 head red lettuce
1/2 c chopped kale (I have discovered a beautiful organic kale with purple veins, beautiful in the salad but make sure you chiffonade the kale so it isn't too coarse)
1 c arugula
1/4 c crumbled goat cheese (this is just an estimate if you would like more cheese…add it)
2 T pepitos ( roasted pumpkin seeds)
1/4 c chopped dried cherries (cranberries or apricots)
1 c sugar snap peas
1 avocado, diced into chunks
2 T chopped chives
Sous Salt Grey & Herb & Pepper
1 t olive oil
dressing
1 small shallot, minced
juice of 1 lemon
1 tablespoon Dijon mustard
1 1/2 teaspoons pure maple syrup
1/2 extra-virgin olive oil
Sous Salt Grey & Herb and black pepper, to taste
directions
Saute just until tender the sugar snap peas in the teaspoon of olive oil and season with the Sous Salt Grey & Herb. Remove them from the skillet and chop into bite size pieces. Assemble the salad with the remaining ingredients in a large salad bowl. Add the chopped sugar snaps.
In a small bowl add the shallot, lemon juice, Dijon, maple syrup and whisk in slowly the olive oil to emulsify.  Add the Sous Salt and Pepper to taste.
Gently dress the salad and serve!
You can substitute the maple syrup for agave nectar or honey but really the maple syrup works great with this salad. My family enjoyed it so much I had to make it for a week before they were ready to move on…with the promise that we would revisit it again next week!