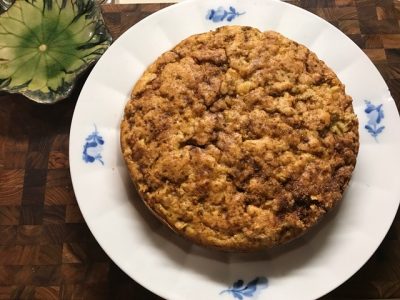 This is a wonderfully moist cake that can be served anytime…Breakfast,  Afternoon Tea or for Dessert after Dinner. I used a combination of cake flour and all purpose flour but it's not necessary if you don't have cake flour. However if you want to experiment, you don't need to buy an entire bag of cake flour if you don't use it regularly. Here's what you do…for every cup of all purpose flour, take out 2 T from the cup and replace it with 2 T of cornstarch. There you have it..a substitute! I love moist cakes with a scoop of ice cream however you could just dust it with powdered sugar or make a light custard sauce to drizzle over the top. Enjoy!
ingredients
2 c all purpose flour
1 c cake flour
1 T baking powder
1/2 t ground ginger
1/2 t cinnamon
1/4 t nutmeg
1 c cold unsalted butter cut into small pieces
1 c sugar
3/4 c milk (you can use buttermilk as well)
2 eggs @ room temperature
1 t vanilla extract
3 Granny Smith apples peeled, cored, diced in 1/2 inch pieces (keep them in a water/lemon juice bath until you are ready to incorporate them into the flour so they don't brown)
topping
1/2 t cinnamon
1/2 t Sous Salt Sweet & Savory
2 T sugar (I used organic cane sugar which gives the top of the cake a sparkle)
directions
Preheat the over to 375 degrees. Butter and flour a 9-inch springform pan.
In a large bowl add the flours, baking powder, Soussalt, ginger, cinnamon, nutmeg. Add the butter and incorporate with your fingers. Creaming the pieces into the flour until the consistency is pebbly. Add the sugar and combine. Add the apples into the flour mixture and toss well to coat them evenly.
In another bowl whisk the milk, eggs, and vanilla until combined. Pour the milk mixture over the apple mixture and stir just until incorporated.  Don't over mix the batter will be lumpy.
Pour the batter into the prepared pan. Sprinkle the Sous Salt, cinnamon and sugar mixture over the top of the cake batter.Place in the over and baked 45 – 50 minutes until the top is golden and an inserted toothpick comes out clean.  Let the cake rest in the pan for 5 minutes then gently remove the springform pan.
Serve with dusted powdered sugar, ice cream or both!