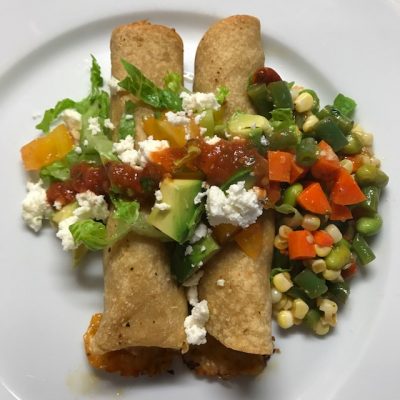 This is a quick, easy and satisfying dinner you and your kids will love.  Whether you use a rotisserie chicken or last nights leftover steak this is a great meal. I used the Harissa that I make but you could easily substitute it for a thick salsa. Also I use creme fraiche but sour cream works perfectly. I mixed spicy Monterey Jack and Cheddar but you could also use queso fresco in place of those. Of course I used our Sous Salt Chipotle Pepper Salt to season them to perfectly. These taquitos are not fried they are baked which makes them much easy to prep and cook. I made mine earlier in the day, sprayed them with cooking spray right before they went into the oven and they came out perfect.
ingredients
2 c Roast Chicken, shredded
2 T crème fraiche
2 T harissa paste (or you could use a thick salsa)
1 t Sous Salt Chipotle Pepper
½ c shredded cheddar cheese
½ c shredded Monterey Jack cheese
cooking spray or I have canola oil in a spray bottle (same result)
12 corn tortillas
directions
Heat the over to 350 degrees.
Place the tortillas in a large plastic bag with two slightly moist paper towels. Heat them in the micro wave over for apx  30 – 60 seconds to make them pliable enough to roll
Spray your cooking spray onto a cooking sheet.
Mix together the crème fraiche, harissa paste (or thick salsa) and Sous Salt Chipotle Pepper in a bowl. Add the chicken and the cheeses to the sauce. Take a corn tortilla place the filling in the middle and roll into the taquito.  I spray the last part of the roll with cooking spray so the taquito would stick to itself. When you have finished spray all the little rolls and place them in the oven until golden and slightly crispy apx 20 mins.
Garnish them with chopped lettuce, tomato, salsa, avocado or guacamole and a bit of cheese.