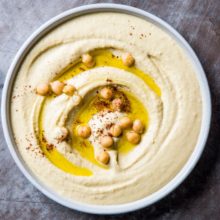 Hummus to me is a perfect little snack when I am looking for something a bit healthier but tasty and satisfying. Versatile it is platform you can flavor it with a multitude of ingredients. Pine nuts, garlic, Siracha, artichokes, roasted red peppers it's almost limitless.  In addition to a snack I use my Hummus to thicken soups, curries and stews. Far less caloric that flour and butter.
Here is my basic recipe for Hummus but please feel free to be creative in your interpretation. One more note I've used our Olive, Thyme, Lemon Zest Sous Salt in this recipe but any of the salts will work perfectly.
sous salt hummus
ingredients:
1 (15 oz.) can chickpeas (garbanzo beans), rinsed and drained reserve 2 T of the liquid
2 cloves garlic, peeled and smashed
5 tablespoons tahini
1-2 tablespoons lemon juice
2 tablespoons extra virgin olive oil
1/2 teaspoon ground cumin
1 teaspoon Sous Salt Olive, Lemon, Thyme
water if necessary
directions:
Drain your can of chickpeas, reserving some of the liquid. In your food processor combine the chickpeas, garlic, lemon juice, tahini, 2 T of the can liquid and puree until smooth. This might take a minute or so but it's so worth it to have smooth hummus.  Add Sous Salt, cumin and pepper. At this point add whichever enhancements you would like to add to flavor your hummus. Drizzle in the olive oil through the feed tube of your food processor.  Adjust the consistency with either more olive oil, lemon juice or water.
Photo courtesy of alex lau