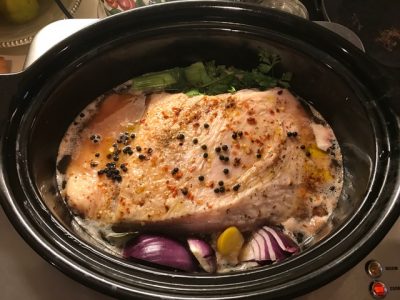 Don't save Corned Beef just for the month of March. It's super easy to prep and incredibly satisfying to eat.
This is how I prep and cook my corned beef. This particular recipe calls for the slow cooker but you can easily put it in the oven. The oven method changes the cooking time from all day to 2 1/2 hours after you bring the liquid up to a boil on the stove. Either way produces a wonderfully moist result. Remember to slice it against the grain or you will have a stringy chewy result.
ingredients
3 – 4 pound corned beef
1 T pickling spice (sometimes this is included in a little bag with your corned beef)
2 beers (I use a stout lager)
1 onion, rough chop
3 carrots, cut in 3″ lengths
3 celery stalks, cut in 3 " lengths
1 T olive oil
directions
When you get the corned beef from the market it is usually in a plastic bag.  Open the bag and rinse the corned beef.  Then place it in the slow cooker with all of the other ingredients. Toss the vegetables with the Sous Salt Grey & Herbs and 1 T olive oil in a large bowl and add them to the slow cooker. Add the beers and enough water to cover the corned beef.  Put the lid on the slow cooker and cook on high for 6 – 8 hours.
I find the liquid that the beef was cooked in too strong so I discard it. However you may keep it and cook your vegetables in it. If so take 2 cups of the liquid from the slow cooker and cook carrots, celery, cabbage or whatever you would like for 35 – 40 minutes until the cabbage is tender.
Serve with creme fraiche and horseradish or Russian dressing. We usually make sandwiches with the corned beef. Then hash the next day!