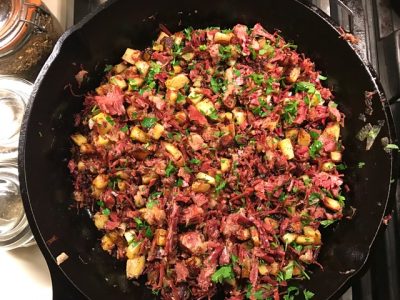 Corned beef hash served with a poached egg is one my families favorite meals. We don't have it often but when we do it's worth every morsel. It's so wonderfully satisfying in multiple ways. The gently poached egg,  the flavorful corn of the beef with the crusty shallots and potatoes….just devine. Truly though you need to cook your own corned beef. It's just not the same when store bought. Cooking a corned beef is very easy it's just vegetables and a couple bottles of beer. Recipe is on the site.  Once cooked though you can make this delightful dish.
ingredients
4 c corned beef
3 yukon gold medium size potatoes
3 shallots
1/2 c chopped parsley
2 T olive oil
Pepper
Cholua or Tabasco
directions
I use my cast iron skillet because it makes the best crust on the potatoes and shallots. Add the olive to the skillet on medium heat. Saute the shallots and the potatoes with 1 t of Sous Salt Sun Dried Tomato and pepper to taste. Let this mixture brown don't go turning it constantly. It needs to crust before you flip. After you get a nice brown on both sides of the potatoes add the corned beef and leave that alone for a few minutes as well. You want to develop a little color on the corned beef as well. Flip the corned beef mixture once. Then add the fresh parsley.
While the corned beef is crusting poach your eggs. I use a medium size skillet with water filled 2/3 up the side. Add 1 T white vinegar. Bring the water to just under a boil. Crack your egg in a ramekin and gently add the egg to the sub-boiling water. Poach them just until the white is opaque. Plate the corned beef and top it with the egg.
Serve with a couple dashes of Tabasco or Cholua!