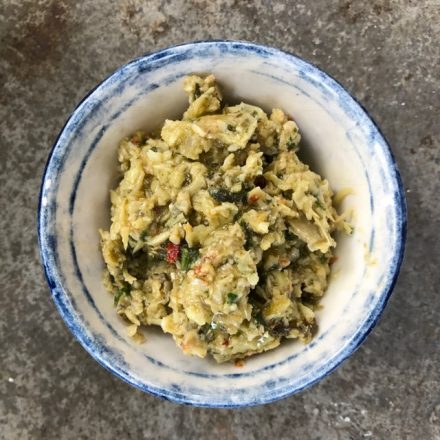 A staple in my kitchen…today I'm going to share with you my recipe for artichoke tapenade and how I use it regularly for quick flavor and punch. Any of our Sous Salts will work in this tapenade…your choice!. Need to make a quick pasta, add a couple of tablespoons with a half a cup of parmesan to cooked pasta and you have dinner.  Want a piquant edge to your tomato sauce the tapenade does just the trick. Stirred into steamed vegetables, stews and soups it brightens and enhances the flavor of what you are cooking. This tapenade can be substituted into any recipe that requires multiple spices and herbs.  Usually I prep my pesto's, aioli's and tapenade's on Monday when everyone has gone back to work and the kitchen is quiet again. However Sunday morning is also another great time to spend some time prepping these lovely little jars of heaven that you can use throughout the week. This particular artichoke tapenade is wonderful spooned on grilled lamb chops or pork tenderloin. Entertaining unexpectedly, spread it on toasted crostini.  Amy made a pizza the other day with the tapenade, roasted chicken, pickled jalapenos and fontina that was terrific.
ingredients
2 cloves of garlic, grated into the food processor
1/2 pitted green olives
1 T capers
1 anchovy fillet
8 – 10 ounces of artichokes (I buy the frozen ones in a box)
1/2 lemon, juiced
1/4 c olive oil
2 T parsley
1 t fresh thyme
1/4 t pepper
Optional – Red Pepper Flakes – if you want it spicy
directions
First thing you should do is saute the artichokes in a pan with a teaspoon of olive oil and the anchovy fillet.  This insures that you remove all the liquid they have in them from either being frozen or in a can.  If you don't do this your tapenade will taste a bit watery. So just saute them until they just start to brown lightly on the edges.  Add the grated garlic, turn off the stove and let the garlic marry with the artichokes while you prep the rest of your ingredients. In the bowl of the food processor, add  the olives, capers, parsley, thyme, lemon juice,  the artichoke mixture from the skillet, Sous Salt & pepper. Pulse about 8 times until you have a course consistency.   Then stream in the olive oil. I like my tapenade's on the chunkier side but some people like them pulverized. This is totally up to you.
Taste and adjust the seasoning you may want a little more lemon juice or Sous Salt & pepper. The tapenade will keep for up to one week in the refrigerator if it lasts that long.