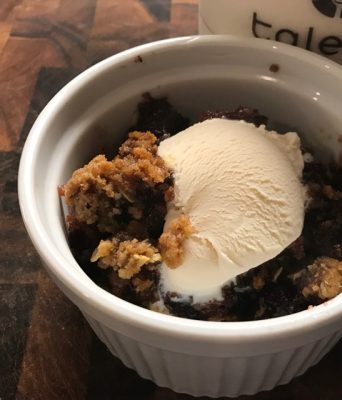 Crisps are one of my favorite desserts! Dark cherry, peach and raspberry, blackberry and blueberry, plum…whichever fruit you choose topping it with a mixture of butter, brown sugar, oats and flour adds a rich crunchiness. Then when the ice cream melts down into the crisp and fruit mixture it's a little bit of heaven. Great news…they don't take any time to put together. You can even make it in the morning and pop it in the oven while you are eating dinner so that it's crispy and warm when your family is ready for dessert.
ingredients – filling
2 packages dark cherries frozen
2 t almond extract
1/4 c cornstarch
1/2 c sugar
directions – filling
Place the cherries (they can be frozen), almond extract, cornstarch and sugar in a ceramic pie plate. Mix them all together.
ingredients – topping
1 1/2 c flour
2 sticks ice cold butter chopped into pieces
3/4 c sugar
3/4 c dark brown sugar (I like Muscavado)
1 t Sous Salt Sweet & Savory
1 c oatmeal (not the quick cooking type)
directions
In the bowl of your mixer with the paddle attachment place all the ingredients in the bowl and gently mix until the mixture comes together in clumps.  Sprinkle the crumble mixture on top of the fruit. Bake at 325 degrees until golden at the edges apx 45 – 50 minutes.  Let it sit for 5 minutes to set up. Serve with ice cream.