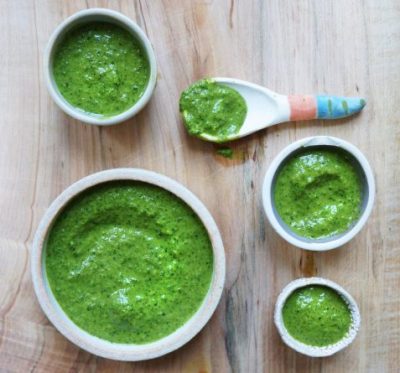 Seriously this sauce is heavenly…straight from the crock or thinned down and used as a salad dressing. Drizzle it over spicy dishes to even out the heat or use it to finish grilled fish & meats. I made this Monday and have used it in different ways throughout the week. Unlike basil pesto it stays brilliantly green. It has a slightly sweet and salty taste with a balance of acidity from the lemon, lime juice and the cider vinegar. I used a local honey that was dark and rich which I think added a great depth to the citrus juices. The first time I made it I used Sous Salt Fennel & Shallot…the second time I made it with Sous Salt Sweet & Savory. Both were terrific!
ingredients
MAKES ABOUT 1 CUP
3 tablespoons white miso
3 tablespoons fresh lemon juice
2 tablespoons fresh lime juice
2 tablespoons olive oil
4 teaspoons tahini
1 tablespoon apple cider vinegar
1 tablespoon honey, preferably raw
2 cups cilantro leaves with tender stems (I used 1 cup cilantro & 1 c parsley)
⅓ cup sliced chives
1 teaspoon grated peeled ginger
1 teaspoon ground coriander
Sous Salt Fennel & Shallot salt, freshly ground pepper
 directions
Pulse miso, lemon juice, lime juice, oil, tahini, vinegar, Sous Salt Fennel & Shallot, a couple grinds of pepper and honey in a food processor or a blender until miso is dissolved and mixture is smooth. Add cilantro, chives, ginger, and coriander and pulse until herbs are finely chopped.
Do Ahead: Sauce can be made 3 days ahead. Cover and chill.
Original recipe by Alaina Sullivan…adapted by Sous Salt
Photograph by Alaina Sullivan