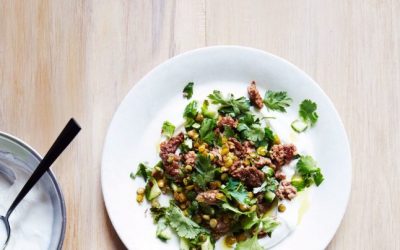 Quick and savory dish that can be served either over basmati rice or spring greens for a dinner salad. I used our Sous Salt Fennel and Shallot but any of the salts would be terrific with the lamb and lentils. You could also substitute the lentils for cooked small white beans, farro, quinoa or chick peas. This recipe was from Bon Appetit so I tested it as it was presented morphing it with our salts. It would be terrific with a bit of curry powder as well.
ingredients
4 SERVINGS
1 tablespoon vegetable oil
½ pound ground lamb
1 t Sous Salt Fennel & Shallot and freshly ground black pepper
2 garlic cloves, thinly sliced
1 teaspoon crushed red pepper flakes
½ teaspoon cumin
1½ cups cooked French green lentils or Black Beluga(from 1 cup dried)
½ English hothouse cucumber, chopped
½ cup chopped fresh cilantro, plus leaves for serving
¼ cup chopped fresh parsley, plus leaves for serving
¾ cup plain whole-milk Greek yogurt
Flatbread and lemon wedges (for serving)
Green Sauce (click the link for this recipe)
directions
Break up lamb into small pieces with a wooden spoon and add the lentils, garlic, red pepper flakes, and cumin. Cook, stirring occasionally, until spices are fragrant and lamb is cooked through but still juicy, about 2 minutes. Transfer lamb mixture to a bowl with a slotted spoon.
Remove from heat and stir in cucumber, cilantro, and parsley.
Spoon yogurt onto plates and top with lamb mixture, then some more cilantro and parsley. Serve with flatbread and lemon wedges.
I made a wonderful Green Sauce that has sweet and herby taste and drizzled this over the yogurt sauce.
Adapted from an original recipe by Alison Roman
Photograph by Nicole Franzen