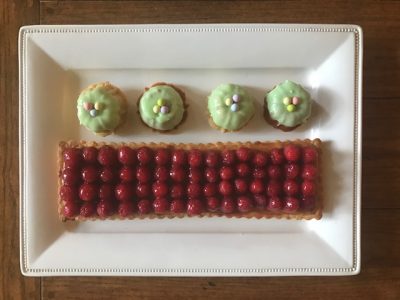 These lovely little tea cakes are yummy either with or without icing. Slightly sweet and delicate they are terrific for a snack cake, wonderful with fruit or ideal for breakfast with some jam.
I made these in a muffin baby bundt pan but you could use a square or round muffin pan as well. These were done for Easter so I colored the icing spring green…your choice of coloring or natural whichever you prefer.  Using purple beet juice gives the icing a terrific brilliant fuchsia color which can be fun. Or orange for Halloween. Limitless possibilities.
ingredients
3 c cake flour
3/4 t baking soda
3/4 Sous Salt Sweet & Savory
1 1/2 c and 3 T brown sugar
3/4 c and 2 T sugar
1 c canola oil
1 t vanilla
2 eggs, room temperature
1 3/4 c buttermilk, room temperature
cooking spray
glaze
6 T butter, melted
1 1/2 c powdered sugar
1 t vanilla
3 T boiling water
directions
Heat the over to 350 degrees. Prepare you muffin tins by spraying them with cooking spray. Cream the sugars, oil and vanilla in the mixer. Add the eggs to the the oil and sugar mixture, mix for 3 mins. Add half the buttermilk, blend, then add half the flour mixture. Repeat until combined.  Batter will be thin.
Bake for 20 minutes.
Cool completely.
For the glaze whisk the butter, powdered sugar, vanilla and boiling water together. Drizzle the glaze over the cakes.