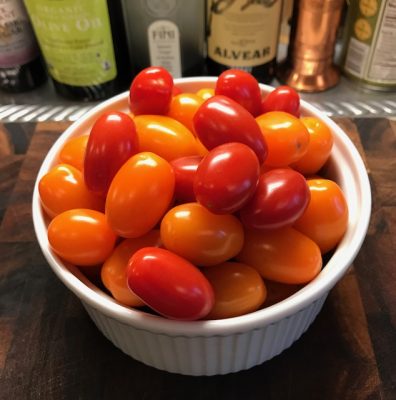 I love pestos and tapenades…tomato, olive, artichoke… they are a necessary ingredient in preparing my go to sauces for pasta, vegetables, chicken and meat during the week. Versatile and flavorful they are easily prepped on the weekend and they make weeknight cooking easy and tasty.
Recently I discovered tomato bacon jam! Right, who knew you could put so much flavor in a little jar! Being a foodie I love creating my own interpretation of what others are cooking … putting my own spin on it so to speak. The original recipe I read that peaked my interest was published by The Closet Cook. I tweaked it a bit to incorporate our Chipotle Sous Salt, also switched up the tomato stash and used what was at the farmers market instead of just Roma tomatoes. Substituted bacon for pancetta which I love but if I were to use bacon it would be an applewood smoked to add the richness.
ingredients
2 pounds mixed heirloom tomatoes (Romas have the most flavor during the winter time)
4 sprigs fresh thyme
2 T oil
8 ounces pancetta or diced applewood smoked bacon
4 cloves garlic
4 shallots
2 T cider vinegar
2 T balsamic vinegar
3/4 c brewed coffee
1/4 c dark brown sugar (I love Muscovado)
1/4 c maple syrup
1 chipotle in adobo sauce
1/2 t cumin
1 – 2 t Sous Salt Chipotle & Pepper to taste
directions
Cut the tomatoes in half or quarters depending on the size so that all the pieces are about the same size. Leave the paper on the garlic cloves and the shallots and toss the tomatoes and the garlic with the 2 T of olive oil, sprinkle them with 1 t of the Sous Salt Chipotle. Place them on a baking sheet with the cut sides up if possible. Nestle the thyme springs in amongst the tomatoes. Roast them in a 250 degree oven for 2 hours.
Saute the pancetta or bacon until lightly browned but still soft.
Once the tomatoes have roasted place them in a large sauce pan with the garlic and shallots (skin now removed), vinegars, coffee, brown sugar, maple syrup, chipotle, bacon or panceta and 1 T of the pan drippings, cumin and 1 t Sous Salt Chipotle. Simmer this mixture until nice and syrupy, apx 1 hour.
Let the mixture cool slightly and process in a food processor until your desired consistency.  I like my a little chunky so it was a mix of chunk and jam!