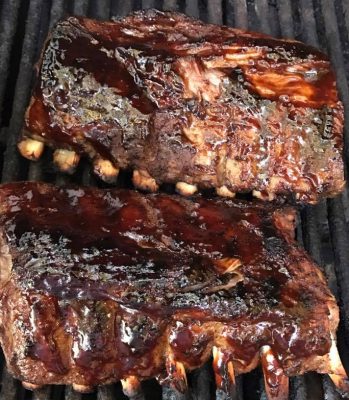 Smokey, sweet, sticky, yummy pork ribs…..who coined the phrase finger licking good…these were so beyond that. I started them in the pressure cooker because I wasn't going to be around and I needed to partially cook them before we put them on the bbq in the evening. I rubbed them with a mixture of Sous Salt Smoked Paprika and brown sugar then I put them in the refrigerator for a couple hours to air dry. Put them in the pressure cooker for just 30 minutes to tenderize them. You could easily put them in the oven for a couple of hours at 250 degrees and get the same result.  What you are looking for is a tender rib rack that is not so tender that it falls off the bone completely. Just before that point so when you finish them on the grill they hold their shape. I happen to be married to a terrific A+ grill master….he finished what I started, the results were beautiful.
ingredients
1 bottle of your favorite bbq sauce ~ I love Lillie's Q Barbeque Sauce ~ Hot Smokey
1 bottle of beer ~ I used 805 by Firestone
1/4 c brown sugar
directions
I used 3 half slabs of baby back pork ribs for this occasion but you can easily add or subtract depending on how many you are feeding.  Whether you use a pressure cooker or the oven first and foremost you need to season the ribs with the rub, air dry them in the fridge for an hour (if you have the time). Mix the Sous Salt and the brown sugar and generously rub the ribs with the mixture. Heat the pressure cooker or a skillet and sear the racks until they have a nice crispy brown exterior. If you are using a skillet deglaze the pan with the bottle of beer add 1 cup of the bbq sauce to the beer and poor the mixture over the ribs. For the pressure cooker ~ cook them on high for 30 minutes. In the over 250 degrees for 2 hours covered with foil.
When they are finished cooking prep your grill.  Scott grilled the ribs brushed with just a little of the remaining cooking liquid from the cooker/pan for five minutes a side. Your grill might be different just cook them until they have a crunchy colorful exterior. After they have been grilled brush them with a last coating of sauce and turn the grill off so the sauce cooks a bit but doesn't burn.
We served them with our Cornbread and Coleslaw….