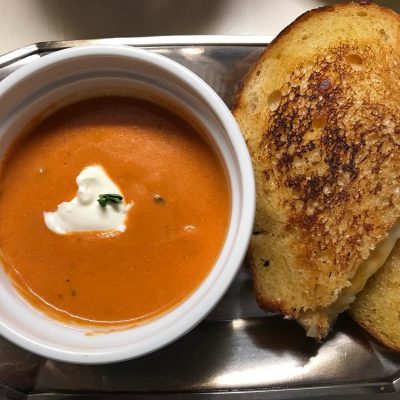 This incredibly tasty and versatile creation can morph into any dish that requires a tomato base. Our go to soup for a cold remedy it is also wonderful thickened with goat cheese as a pasta sauce (even a touch of vodka as well). Enhanced with more herbs and diced tomatoes for a tomato sauce. Added to meat loaf or ground sirloin to season the evening meal. A little creativity and it is almost limitless in it's use.
ingredients
4 servings
1 can 28 oz whole peeled tomatoes
2 boxes of small fresh tomatoes (I used a mixture of yellow and red)
4 cloves of garlic left in their paper
2 T olive oil
Sous Salt … any one would be awesome
Pepper
2 shallots (paper removed and cut in half)
2 T tomato paste
2 c chicken stock
3 sprigs thyme
2 T butter
directions
Preheat the oven to 425 degrees. On a rimmed baking sheet put the canned tomatoes  (reserving the liquid for later) the 2 boxes of the fresh tomatoes, garlic, shallots and sprigs of thyme. Drizzle with olive oil, smear in the tomato paste and sprinkle with the Sous Salt of your choice. Sometimes I use the Olive, Thyme, or the Sun Dried Heirloom Tomato or the Grey Salt with Herb. Any of them would be terrific. Pepper to taste. Roast the tomatoes for apx 30 minutes until they are slightly brown and jammy.
Let them cool slightly. Remove the thyme sprigs from the baking sheet and discard. Remove the garlic from the skin and discard the skin. Working in batches, place the tomato mixture and 1 cup of the chicken stock in a blender and pulse until very smooth. Pour soup back into pot and adjust to your desired consistency with the additional chicken stock.  Some like their soup thick, others thin.  Finish by whisking in the butter and add salt and pepper to taste.
At this time you can add fresh herbs if you like. I serve it with a dollop of creme fraiche and a sprinkling of Sous Salt and fresh thyme.