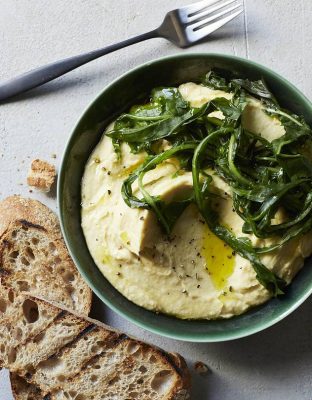 My favorite beans are garbanzos…commonly known as chickpeas…I make hummus in our house every week as a staple for snacks, thicken soups, stews and curries. These beautiful beans are incredibly versatile. This recipe however I found in the WSJ and made on a rainy Saturday afternoon. They used dandelion greens, I used a colorful stemmed Swiss chard. I think even a tossed arugula would be lovely. Blending the chickpeas with the potato and Sous Salt Thyme, Olive and Lemon produces a lovely velvety puree. Crusty grilled bread and a lovely piece of grilled fish or meat are a perfect accompaniment to this quick and heart dinner.
Thank you WSJ for the recipe and picture. Adapted for our wonderful Sous Salt!
ingredients
2 ½ cups cooked dried or canned chickpeas, drained and tossed dry
¾ cup extra-virgin olive oil, plus extra for drizzling
½ head garlic
6 sage leaves
2 sprigs rosemary
½ Russet potato, peeled and quartered
Sous Salt Olive, Thyme & Lemon & pepper
1 bunch either dandelion greens, swiss chard or kale, tough stems trimmed
directions
Place cooked chickpeas in a medium, heavy-bottom pot. Add enough water to cover beans by 2 inches. Add ¼ cup olive oil, garlic, sage, rosemary and potato. Set pot over medium heat and bring to a simmer. Gently cook beans until broth is flavorful and potato tender and beginning to fall apart, about 20 minutes.
Set a medium pot of generously salted water over high heat. Once boiling, add greens, and boil until they wilt and become tender, 3-4 minutes. Drain greens and season with salt, pepper and a good drizzle of olive oil.
Drain chickpeas and potato, reserving cooking liquid and discarding aromatics. Puree chickpeas and potato with ½ cup olive oil and 2 tablespoons cooking liquid until smooth. Puree should be loose enough to dribble off a spoon. If too stiff, blend in splashes of cooking liquid until desired consistency is achieved. Season with salt, pepper and more olive oil, as needed.
To serve, ladle warm puree onto plates and set a mound of greens next to puree. Drizzle olive oil over everything and serve.
THE CHEFS: CLARE DE BOER AND JESS SHADBOLT