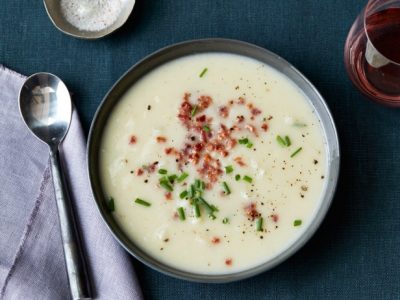 I love cauliflower, well truth be told I just love food! And I love sharing what tastes good and is easy to prepare. With the rainy days upon us there is nothing better than a warm soup with a great artisan crusty bread.  Now a days the markets have such an array of finely crafted breads from an Italian Herb Slab to a hearty Dark Seeded Wheat….any loaf would be terrific dipped in this soup. All you need is a nice fire and your family!
Ingredients
1 large head cauliflower, cored and chopped into small florettes
2 T olive oil
1 t Sun Dried  Tomato Sous Salt
Pepper to taste
3 T butter
3 T flour
1 clove garlic
2 shallots, finely chopped
3 c milk
2 c chicken broth
1/2 c heavy cream
1 t fresh chopped parsley
1 t fresh thyme
4 ounces white cheddar cheese, grated
2 T grated parmesan
4 ounces chopped pancetta
8 chives, chopped fine
Directions
Preheat the oven to 425 degrees. On a baking sheet drizzle the olive oil on the garlic and season with the Sun Dried Tomato Sous Salt and some pepper. Bake in the oven for apx 20 mins until golden brown. Set aside.
In a 4 quart soup pot, melt the butter. Add the shallots and saute about 3 mins. Add the flour and cook for about a minute. Just to take the flour taste away. The browner the flour becomes the darker the soup will be.  After about a minute add the garlic and cook for 30 seconds.  Add the chicken broth, milk and cream together in a large measuring cup.Whisk the mixture into the flour mixture slowly.  Add in the parsley, thyme, roasted cauliflower. Bring to a boil, reduce to low and simmer for 2 minutes. Remove from the heat.
Puree 3 cups of the soup in a blender, remember that when you blend hot liquids they expand so do it in stages. Return the blended liquid to the soup pot.  Heat to desired temp. Add the cheeses and if necessary season with additional Sun-Dried Tomato Sous Salt.
Saute the pancetta until crispy, drain the fat and toss with the chives. Finish the soup with the pancetta and chive garnish.
Photo courtesy of Nadia G