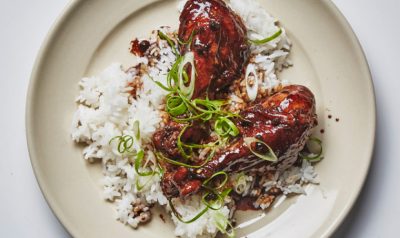 I never knew that Adobo Chicken was a Filipino dish. I always thought it had it's roots in Mexican Cuisine.  When I saw this recipe the other day from Amelia Ramp via Bon Appetit I thought….that sounds easy and yummy. The combination of the vinegar and soy sauce marinade gives you the sweet and tart punch that makes your evening meal sooooo gratifying.  I've adjusted it to my tastes, feel free to do the same. Amelia's original recipe is pretty much in tact just morphed into my way of cooking. For a more intense flavor you can marinate the chicken. However the dish is so flavorful at times I think a sauce this rich is overpowered by a long marinating period. So feel free to just toss the chicken in the marinade for a few minutes before you sear it off. Served with just a short grain white rice like Calrose or sticky white or brown rice or even put it between a couple of tortillas.
The picture shown is just chicken legs but the color is what you are working towards. A deep mahogany. Trust me you will love this recipe!
 Ingredients:
2 lbs of boneless chicken thighs
6 garlic cloves, coarsely chopped
2 Thai chiles, halved lengthwise or use 1 teaspoon of Chinese chili garlic paste
1 inch piece of ginger, slice
1/2 cup unseasoned rice vinegar or sherry vinegar
1/2 cup oyster sauce
1/2 cup dark soy sauce
Dash of Siracha
2 tablespoons Boo Sous Salt or light brown sugar
2 tablespoons canola oil
1 tablespoon toasted sesame oil
2 teaspoons corn starch
1/2 bunch cilantro
4 stems cilantro, chopped for finishing
white rice
scallions, chopped for finishing
Preparation:
Place chicken, garlic, chiles, ginger, oyster sauce, siracha, sesame oil, ginger, Sweet & Savory Sous Salt in a bowl or a plastic bag to marinate for between 20 minutes to overnight. The longer you marinate the chicken the deeper the flavor becomes.
Heat canola oil in a medium heavy saucepan over medium. Add chicken and saute until the chicken begins to brown and caramelize. Approximately 3-4 minutes per side. 8 minutes total.
When the chicken is brown on both sides add the dark soy sauce and the vinegar to the pan. Cover and bake in the over apx 30 minutes. Take the chicken our of the sauce and add the cornstarch and 1/4 cup water slurry to the pan; bring to a simmer. Add the chicken back to the thickening sauce and finish  the chicken in the sauce. If the sauce thickens too quickly add a bit more water until you get a velvety sauce.
Serve chicken over rice, spoon sauce over the chicken and rice finish with chopped, scallions. Or shrewd the chicken off the bone and put it in tortillas.
Photograph by Alex Lau