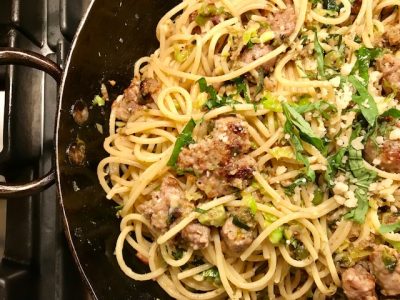 This is a terrific, last minute go to pasta that you can prepare either with or without the sausage. There is so much flavor in the olives, capers and garlic that this dish will stand alone perfectly without the meat.  My family just doesn't feel they haven't had dinner unless there is some form of meat protein in it! There are a couple of anchovies that melt into the olive oil adding a lovely briny salty flavor to the dish. You can leave them out however they do add a layer of flavor that just can't be duplicated and they are not fishy, trust me on this one.
ingredients
1 T olive oil
1/4 c panko bread crumbs
1 t Sous Salt Fennel & Shallot
1/2 of a lemon juiced
3 anchovy fillets
2 cloves of garlic minced
1/2 chopped fresh basil
1 c green olives, pitted and chopped
2 T chopped capers
1/2 c grated parmesan
1/2 lb linguine or spaghetti
1/2 Italian sausage removed from their casings
directions
Bring your salted pasta water on the stove to a boil. Cook your pasta according to instructions but subtract one minute from the cooking time.  I like to finish my pasta in the sauce so it absorbs some of the skillet liquid.
Heat 1 T of olive oil in a skillet over medium high eat. Add the anchovies to the skillet and smash them into the oil.  Break the sausage up and add it to the pan. Season with the Sous Salt Fennel & Shallot and pepper. You want the skillet hot enough so that the sausage actually browns and crisps up. Not only does this add color but flavor as well. Once the sausage has browned, reduce the heat to medium and add the minced garlic, chopped, olives, capers, lemon juice and simmer gently for 2 minutes. All you are doing at this point is heating the remaining ingredients into the sausage mixture.
In a small skillet drizzle with 1 t of olive oil and toast the panko break crumbs.
When the pasta has finished cooking add 1/2 c of the pasta water to the sauce in the skillet and then add the pasta.  Let them simmer together for 1 minute. Add the basil, bread crumbs and the parmesan and you are good to go!