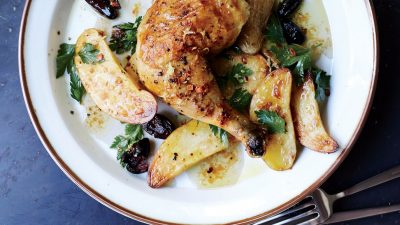 Chicken loves Sous Salt!
The combination of the grey salt, spices and herbs that we use is absorbed and enhances  anything you roast with it…but chicken…it's like a blank canvas waiting to be seasoned with a flavorful paint!
Any of our Salts will work perfectly with this recipe, even the Sous Salt Sweet & Savory. This is a quick go to recipe that is better than the rotisserie chicken that's been sitting in the deli counter for 6 hours baking away what juices it might have had left. Don't get me wrong I love rotisserie chicken but unless you see them actually take the lovely little bird off of the rack it's been roasting on you have no idea how long that bird has been in the package!
This particular recipe that I morphed with our salts is originally from Bon Appetit I have made it using just Kalamata olives and a combination of Kalamata and Cerignola (which are those beautiful green olives). I prefer the combination of the two because the Kalamata gives it a brinyness but the Cerignola's add a richness that mellows out the Kalamata. The potatoes love the two olives as well. Lots of fresh parsley and our Sous Salt Grain & Rice Medley and dinner is ready…maybe just a quick salad (our Caesar works).
ingredients
4 SERVINGS
½ teaspoon crushed red pepper flakes; plus more for serving (optional)
1½ pound fingerling potatoes, halved
½ cup pitted Kalamata olives Or 1/4 cup Kalamata and 1/4 cup Cerignola olives
1/4 c olive oil
2 cloves garlic, grated
Freshly ground black pepper
4 chicken legs and thighs attached (they stay moist that way)
½ cup fresh flat-leaf parsley leaves with tender stems
1 teaspoon finely grated lemon zest
directions:
Preheat oven to 450°. Mix together the Sous Salt Fennel & Shallot, grated garlic, ½ tsp. red pepper flakes and the olive oil.
Rub the chicken with the mixture and toss the potatoes and olives with what remains.
Arrange the chicken and the potato mixture around chicken. Roast until potatoes are fork-tender, chicken is cooked through, and skin is crisp, 35–45 minutes. Serve chicken and potato mixture topped with parsley, lemon zest, and more red pepper flakes, if desired; spoon pan juices around.
Recipe by Claire Saffitz ~ Adaptation as noted by Sous Salt
Photograph by Christopher Baker