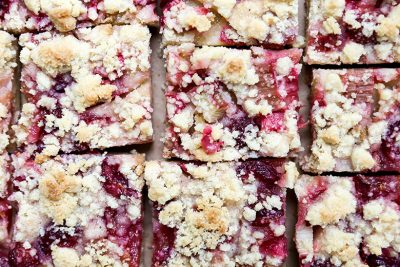 This recipe is from Liz at The Floating Kitchen. She posted a terrific brownie raspberry ice cream sandwich the other day and while I was researching how to morph it for our Sous Salt I found this recipe for black cherry rhubarb short bread type cookie bars. This would also work with raspberries. I love short bread cookies and this is very reminiscent of that flaky sweet dough. It's heavenly with our Pinot Noir Sous Salt!
ingredients
crust & topping
2 1/2 cups all-purpose flour
1/2 cup finely ground pistachios
1 cup sugar
1 tsp. baking powder
1/4 tsp. Pinot Noir Sous Salt
Zest from 1 lemon
1 cup (16 tablespoons) unsalted butter, cubed and chilled
1 egg
2 tsp. vanilla extract
filling
2 c rhubarb
2 cups cherry halves (stemmed and pitted)
1 tablespoon corn starch
Juice from 1/2 lemon
instructions
Pre-heat your oven to 375 degrees. Spray a 9 X 13-inch baking pan with non-stick cooking spray. Set aside.
In your food processor with the blade attachment, pulse together the flours, sugar, baking powder, Pinot Noir Sous Salt and lemon zest. Add the butter, egg and vanilla extract. Pulse until the dough resembles a course meal. Set aside.
In a large bowl, toss together the rhubarb, cherries, corn starch and lemon juice. Set aside.
Transfer about two-thirds of the dough into your prepared baking pan. Using your hands, press it down firmly into an even layer. Then spread the fruit mixture in a single layer over top. Sprinkle the remaining dough over the fruit.
Transfer the baking pan to your pre-heated oven and bake for 40-45 minutes, or until the top is lightly browned. Remove from the oven and set aside to cool completely before slicing and serving.
Leftovers can be stored in an airtight container in your refrigerator for 2-3 days.