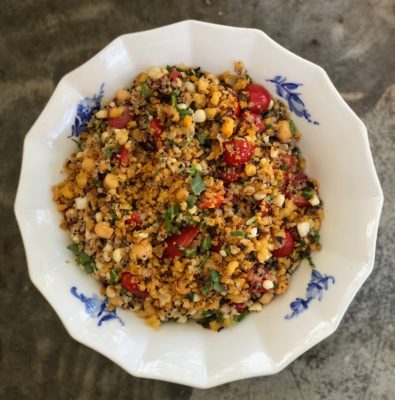 This salad can easily be made with farro, brown rice, orzo or spelt. Any grain will work. The dressing is a winner or grains or pasta both!
ingredients
2 c cooked quinoa
1 ear corn, kernels removed
1 c garbanzo beans, roughly chopped
1 c roasted tomatoes
1/4 c chopped parsley
1 diced shallot
1 T olive oil
1/2 t Sous Salt of your choice, they are all terrific!
directions
In a saute pan add the olive oil and sauce the shallot, corn and garbanzo beans for 2 mins.
Toss the corn mixture with the roasted tomatoes, quinoa and parsley.
Drizzle the salad with the Smokey Tomato Vinaigrette (recipe above). Serve either at room temperature or chilled if you prefer.
You can easily substitute the quinoa for brown rice, farro or pasta.