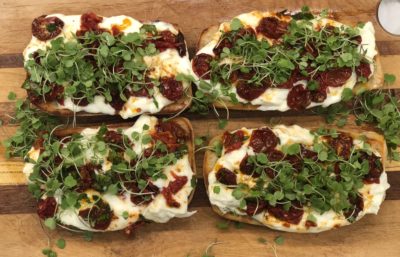 This is a tasty recipe for a wonderful appetizer or an addition to the evening meal. The tomatoes are so sweet when roasted they are like vegetable candy combined with the fruitiness of the olive oil and the  richness of the burrata, it's perfection.  A sprinkle of micro arugula and there isn't anything else you need with the exception of a sprinkling of Sous Salt!i
ingredients
2 pints of cherry tomatoes
1 T olive oil + more for drizzling on the toasts
1 t Sous Salt Olive Thyme & Lemon + more for finishing
1 package of fresh Burrata (or you could substitute fresh ricotta or fresh mozzarella if you choose)
2 small Ciabatta rolls
Fresh Micro Arugula (or baby arugula if you can't find the micro)
directions
Cut the cherry tomatoes in half, toss them in the olive oil and sprinkle with 1 t Sous Salt. Lay them flat on a baking sheet, cut side up.  Roast in a 250 degree oven for 2 hours or until still plump but definitely softly dried out.
Cut the Ciabatta in half lengthwise and lightly brush with olive oil and a sprinkle of Sous Salt. Grill the halves on a grill pan until you have a lovely golden color.
Place the Burrata on the halves and decorate the cheese with the roasted tomatoes, sprinkle on the micro arugula and drizzle with just a little more olive oil….heaven on the planet, I promise!