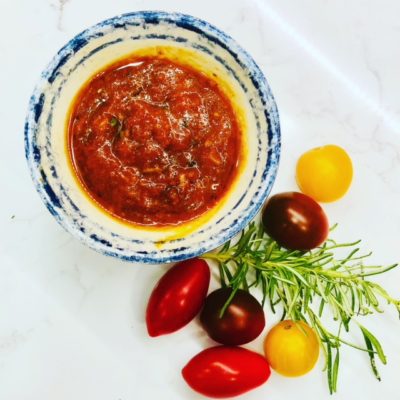 This particular vinaigrette can be morphed into basically any sauce you might fancy.  Use it as a sweet and tangy salsa, add it to an aioli for a terrific sweet kick, toss it in a pasta salad or drizzle it on grilled vegetables. It's an awesome addition to you cooking on the fly nights!
In this recipe I flash seared the tomatoes in a dry skillet until they were blistered however you could easily toss them in olive oil sprinkle them with whichever Sous Salt you love and roast them in a 400 degree oven for 25 minutes until they are toasted brown.
Whichever way you cook them the end result produces tomatoes that are so sweet they add a depth of flavor to whatever you choose to add them too…
ingredients
3 pints of cherry tomatoes (I like to use a combination of heirlooms for color and taste diversity)
1/2 c basil
1/4 c olive oil
1 T honey or agave
1 T Sous Salt Sun Dried Tomato and pepper to taste
2 T apple cider vinegar
directions
Pan sear the tomatoes in a dry skillet for approximately 5 – 8 minutes until they are blistered on the outside. Let them cool just a bit. Add them to a blender with the remaining ingredients and blend til smooth.  If you would like the vinaigrette thinner just add a bit of water to reach the desired consistency.