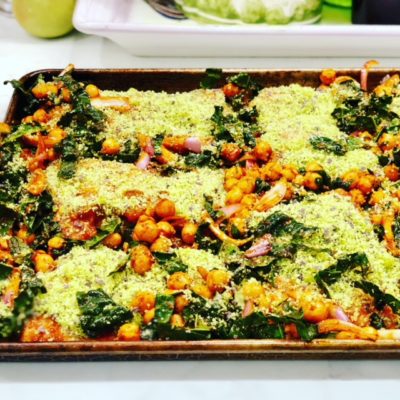 Cooking all of your dishes ingredients on a sheet pan not only beautifully melds the flavors but guarantees a quick and easy clean up. For that reason this is one of my favorite go to dishes.  You can flavor it any way you choose.  This particular recipe I use a blend of tomato sauce and Harissa. Feel free to try dijon mustard with white wine, or just tomato sauce, a blended salsa would work as well as a roasted tomatillo.
ingredients ~
6 – 8 boneless, skinless chicken thighs
1/2 c Harissa
1/2 c Marinara Sauce (or tomato sauce)
1/3 c white wine
1 – 15 ounce can of garbanzo beans drained
Sous Salt Spicy Chipotle & Pepper
2 T melted butter
1 1/2 c panko
2 cloves garlic
1/2 c grated Manchego Cheese
Olive oil
4 leaves of kale, cut or torn into 2 inch pieces or 2 c of fresh spinach
1/2 c chopped cilantro (you can use parsley if you prefer)
directions ~
Sprinkle the chicken thighs with Sous Salt Spicy Chipotle and pepper and let them sit for a few minutes while you prep the rest of the dish. This lets the salt penetrate into the chicken a bit.  Mix together the Harissa, Wine, Tomato Sauce and one of the garlic cloves (grate it into the mixture). On a sheet pan drizzle a bit of olive oil on it.  Toss the garbanzo beans with 2 T of the Harissa mixture and set aside. Toss the kale with the garbanzo mixture. Then dip the chicken thighs into the Harissa mixture and place them on the cooking sheet. Place the garbanzo beans and kale mixture around the chicken thighs.
In your food processor add the butter, panko, cilantro, last clove of garlic and pulse it a bit until crumbly. Then add it to the grated cheese. Sprinkle this mixture over the top of the chicken thighs and bake in a 400 degree oven for 30 mins or until an internal temp registers 165. They should be nicely golden and crispy on the top.
Serves 6 – 8
Bake at 400 degrees.