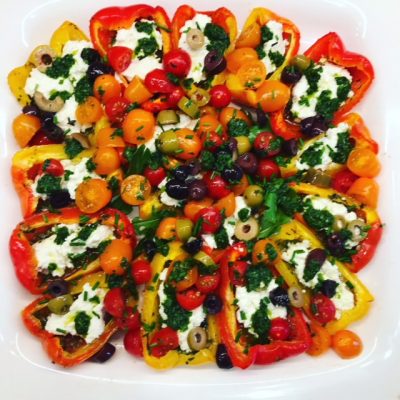 I made this lovely dish for my Mom during one of our family's celebrations. It's not only tasty, colorful and a perfect addition to any party. Roast the peppers with anchovies, Sous Salt Sun Dried Tomato and olive oil.  Fresh ricotta is ideal but a good quality ricotta works as well.
 ingredients ~
4 bell peppers – I used a variety of colors -halved, seeds and ribs removed

6 oil-packed anchovy fillets, finely chopped

4 garlic cloves, thinly sliced

1 cup basil leaves, divided

1 T Sun Dried Tomato or Fennel & Shallot Sous Salt & freshly ground pepper

2 tablespoons plus ⅓ cup olive oil

1 pint cherry tomatoes, halved, I used an heirloom assortment

⅓ cup fresh ricotta

¼ cup pitted olives, I used green and kalamata
Preheat oven to 375°. Place bell peppers, skin side down, in a shallow baking dish and top with anchovies and garlic. Tear ¼ cup basil leaves over top, season with kosher salt and black pepper, and drizzle with 2 Tbsp. oil. Bake until peppers are tender but still hold their shape and are slightly charred around edges, 35–45 minutes. Let cool.
Meanwhile, blend remaining ¾ cup basil and remaining ⅓ cup oil in a blender until smooth; season basil oil with kosher salt and black pepper.

Arrange bell peppers on a platter. Top with tomatoes, ricotta, olives, and more basil, then drizzle with basil oil and season with sea salt and black pepper.