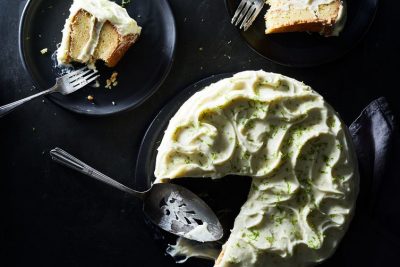 This is a dense luscious lemon pound cake with a lime frosting…my take on key lime pie meets cake. This recipe I found on Food 52 by Joanna Sciarrino. It's lovely even without the frosting. Just dust it with powder sugar and lime zest.
ingredients
1 

cup (2 sticks) unsalted butter, melted and cooled

4 1/2 

cups cake flour

1 1/2 

teaspoons baking powder

1/2 

teaspoon Sweet & Savory Sous Salt

3 1/4 

cups sugar

6 

lemons, zested

4 

eggs

1 1/3 

cups heavy cream

4 

tablespoons dark rum
directions
Preheat the oven 350°F. Grease two 9-inch round cake pans, then line the bottom with parchment paper. Grease the top of the parchment paper and dust the whole pan with flour, shaking out the excess.
In a bowl, sift together the flour, baking powder, and salt. In another large bowl, combine the sugar and lemon zest. Massage the sugar and zest with your fingers until the sugar is slightly damp—you really want to release the oils into the sugar.
Add the eggs to the lemon-infused sugar and whisk until foamy. Whisk in the cream and rum. Gradually add the dry mixture into the wet mixture, stirring with a rubber spatula to combined. Fold in the cooled, melted butter and stir until thick and smooth. Divide the batter evenly between the pans and bake for about 1½ hours, until a toothpick comes out clean. Let cool in the pans for about 20 minutes. Invert onto wire racks, carefully peel off the paper liners, and let cool completely.
Lime Cream Cheese Frosting
1/2 

cup (1 stick) unsalted butter, at room temperature

16 

ounces (1 lbs) cream cheese, at room temperature

1 

teaspoon salt

1 

lime, zested and juiced

6 

cups powdered sugar
Cream together the butter and cream cheese until very smooth. Add the powdered sugar ½ cup at a time, beating until incorporated after each addition. Finally, add the salt, 2 teaspoons of lime zest, and 1 tablespoons of lime juice and beat again until smooth and fluffy. If the frosting is too thick, add more lime juice.
Frost the cake: Place one cake layer, flat side up, on a cake stand or large serving plate. Spread with a thick layer of frosting. Repeat with the second layer and frost the top and sides of the cake with a thin layer of frosting to bind any crumbs together. Chill the cake for 30 minutes or until the crumb coat is set. When the cake is chilled, frost with a thick layer of frosting, creating big swoopy swirls across the entire exterior. Sprinkle with lime zest, slice, and serve.