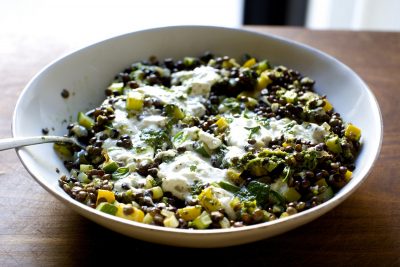 This recipe is from Smitten Kitchen. I loved it because I love burrata, lentils and zucchini…never would have thought to put them together as she did. The burrata melted beautifully over the cooked vegetables and blended perfectly with the mustardy basil vinaigrette.
This recipe can easily be transformed … instead of lentils substitute for quinoa. Change out the Burrata for Feta.
ingredients
lentils
1 1/2 cups dried lentils de puy or other small green lentils
1 tablespoon olive oil
2 medium zucchinis (about 6 ounces each), diced
1 small or 1/2 medium onion, diced
Leaves from 3 fresh sprigs thyme
2 small or 1 large garlic cloves, minced
1 t Porcini Sous Salt and freshly ground black pepper
basil vinaigrette
1 1/4 cups fresh basil leaves
2 teaspoons smooth Dijon mustard, plus more to taste
1 tablespoon plus 2 teaspoons red or white wine vinegar
6 tablespoons olive oil
Porcini Sous Salt and freshly ground black pepper
directions
2 large balls of burrata (or 4 smaller ones), at room temperature (see Note up top)
Sea salt and more black pepper
A few small basil leaves for garnish
Cook lentils: Pick over and rinse lentils. Place them in a medium saucepan and cover with 3 inches of cold water, seasoned well with salt. Simmer the lentils over medium heat for 25 to 30 minutes, until firm-tender. Drain and set aside.Meanwhile, make vinaigrette: Blend basil, mustard and vinegar together in a food processor. With machine running, drizzle in olive oil in a thin stream. Season well with salt and black pepper. You'll need to scrape the machine down a few times to get all of the leaves minced. No food processor? Very finely mince leaves on a cutting board with a sharp knife. Place in medium bowl and whisk with mustard and vinegar. Drizzle in olive oil in a thin stream, whisking the whole time. Season well with salt and pepper.
In a large frying pan, heat 1 tablespoon olive oil over medium heat. Add zucchini, onion, thyme, salt and pepper and cooking, stirring frequently, until softened and just barely picking up color, about 9 minutes. Add garlic and cook 1 minute more. Add cooked lentils back to pan and stir to mix and re-warm; you can add a splash of water if they're sticking. Adjust seasonings to taste.
Assemble: Transfer lentil-vegetable mixture to a large, wide serving bowl and stir in 2/3 of vinaigrette. Place intact* burratas on top and then cut into quarters with a sharp knife so you don't miss any of the wonderful stuff that spills out. The warmth of the lentils will melt it further. Drizzle with a little extra vinaigrette, a few pinches of sea salt and a couple extra grinds of black pepper. Scatter basil leaves over and dig in.
Thanks Smitten Kitchen!