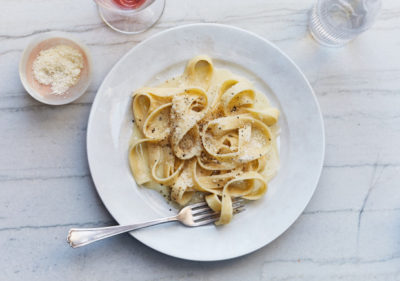 Our passion and purpose in designing the salts at SousSalts is to gift today's busy families time to come together at the end of the day with a memorable meal. We've done this by creating salts with herb and spice blends already infused for you. All you need to do at the end of a busy day is prep your meal, cook to perfection and enjoy dinner time with those you love. With the assistance of our recipe blog  we will provide you with our kitchen tested ideas for culinary creations using our selected salt and spice blends.
We are continually asked how to cook quick, non-complicated meals that taste heavenly. Pasta is a terrific go to dinner. Whether it be enhanced with a fast tomato sauce,  a selection of tapenades or an alfredo… adding our salts to your dish brings a different depth of flavor to your meal.
This article that I have included in this post from Bon Appetit gives you a quick tutorial in how to make a dynamite Alfredo I've just added our Porcini Mushroom Salt to the recipe. You can easily modify it by adding pancetta or bacon. Spice it up with a tablespoon of a prepared tomato tapenade from the store or a goat cheese from the cheese counter. Within minutes you have a tasty, satisfying, pasta dish.
"There's something about pasta at a restaurant that just seems different. The sauce clings to each noodle perfectly, as if separation were physically impossible.  Here are the five key steps to replicating that carbohydrate perfection at home.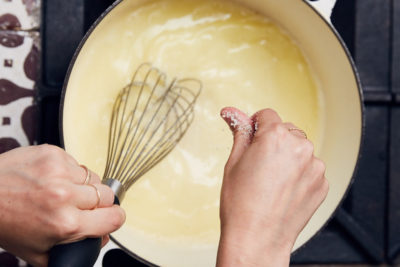 1. Start in a Dutch Oven
A big one, so you avoid half-cooked pasta caking onto your stovetop, which can happen easily when saucing with a skillet. Higher sides mean the pasta won't flip out as you're tossing—and there's going to be a lot of tossing.
2. Build Your Flavors
Pour a few tablespoons of olive oil into the Dutch oven (enough to cover the bottom) and heat over medium. Add some aromatics like garlic or shallots, then cook mushrooms or other vegetables in the oil until they're tender. Season the pan with a generous teaspoon of our Porcini Mushroom Sous Salt.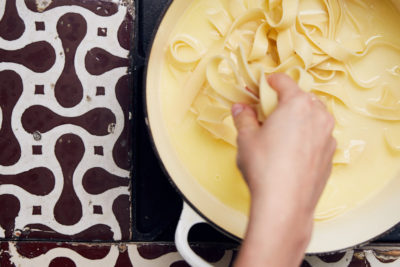 3. Drop the Pasta
In a pot of very salty boiling water, cook noodles until they're several minutes shy of al dente. (That means depending on your cooking instructions for the pasta, reduce the actual time by 2 mins. Finish cooking them in the sauce they will be enhanced further by sauce flavor.) Transfer them to whatever you've got in the Dutch oven, along with a ladleful of pasta water. The noodles should swim, and the liquid should be bubbling.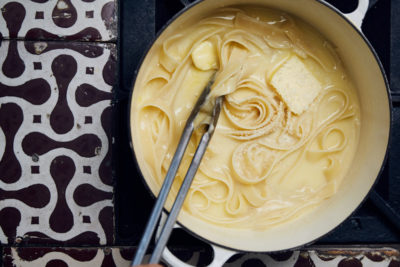 4. Marry the Noodles and Sauce
Toss, toss, toss as the pasta finishes cooking. Then add a bit more pasta water (I use a ladle full which is about 1/2 cup. You might need more depending on  how the sauce sets up so save at least a cup of water). Toss some more, then slowly stir in some finely grated hard cheese—Parmesan, Pecorino, Grana Padano—little by little so it melts evenly and completely.
5. Finish It Right
Keep tossing until each strand or shape is coated and no bits of cheese remain. Remove from heat, stir in a spoonful of butter, and top with more cheese and some crispy bits (prosciutto FTW), then serve directly out of the Dutch oven at the table."
The Bon Appetit portion of this tutorial & post was  written by CLAIRE SAFFITZ. Photography by Michael Graydon + Nikole Herriott