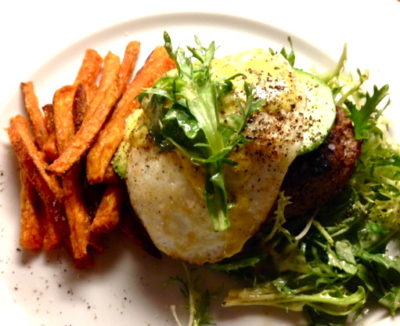 Burger Heaven!
The other night we were trying to figure out what we wanted for dinner. More often than not, at least one member of this family has a food craving and they pipe up immediately. But it was the end of the week and fatigue was definitely weighing heavy in the room. Left up to me, I always go with breakfast for dinner…always my kids favorite. We used to have it all the time when Dad was traveling. Now that the kids are adults, their culinary tastes are a bit more sophisticated so I came up with this recipe for Grilled Lamb Burgers on a bed of Spicy Aioli dressed Frisee with a Fried Egg and Sweet Potato Fries.  Nothing was left on the plate!
It's easy and very satisfying. You can use any type of ground meat, turkey or chicken. However if you go with a white meat turkey or chicken I would add a couple of tablespoons of olive oil because you need a little bit of fat for moisture in the burger.
For 4 servings
Burgers:
2 lbs ground lamb
1-1/2 teaspoon Grey Herb & Garlic Sous Salt
½ teaspoon pepper
1 shallot minced
1/4 cup chopped parsley
Mix the ingredients into patties and let them sit while you prep the Aioli.
Spicy Aioli:
In a food processor add the following-
1 anchovy fillet
1 egg yolk
1 teaspoon red pepper flake chili sauce
1 teaspoon Sirachi (optional for more heat)
1 teaspoon Sun Dried Tomato Sous Salt
½ teaspoon pepper
2 tablespoons lemon juice
1/2 cup olive oil
Mix the above ingredients together and slowly add in the olive and grape seed oils.  Cover and refrigerate for 10 minutes while you finish the prep. Grill the burgers to medium rare, cover and let them sit. Toss the Frisee or Spring Salad Mix  with a small amount of the Aioli. A little goes a long way, nothing worse than drenched greens. Fry your eggs. You can poach them if you prefer. Prepare your plates with a handful of Frisee or Spring Salad Mix, then the Burger, the Egg and a drizzle of the Aioli. We served them with store bought Sweet Potato fries, from bag to oven and they were terrific!