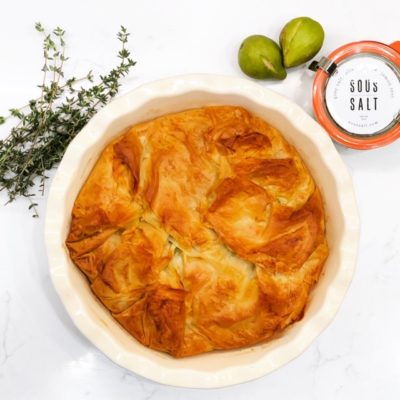 Spanikopita fans this is a wonderful dish…easy to prep, bake and enjoy.  Instead of squeezing the spinach to get rid of the water I saute the moisture out of it with the shallots and artichoke hearts.  Saves my shirt from spinach stains as I always seem to splash spinach juice all over the place in an attempt to dry it out! Also I love the addition of artichokes to the spinach. The balance counteracts some of the bitterness spinach may have.  You can substitute any cheese you prefer as well. Either feta or goat cheese works as a creamy base. But Manchego is nutty and buttery and would work well. Want to add ground meat to it for a complete meal, lamb, pork, turkey or chicken work perfectly.
ingredients
2 bags or boxes of frozen spinach, defrosted & drained
1 box of artichoke hearts, defrosted and chopped
2 shallots
2 T olive oil
2 t Sous Salt Olive Thyme
1 t pepper
2 eggs, beaten
1/2 c freshly grated Parmsean
4 – 6 ounces feta or goat cheese
3 T panko bread crumbs
1/2 c pine nuts toasted
8 sheets of phyllo dough
1/2 stick butter, melted
directions
Preheat the oven to 375 if using a convection oven. 400 if conventional.
In a medium skillet saute the 2 shallots in 2 T olive oil until softened. Add the chopped artichokes and saute until they have a little color on them, about 2 minutes. Then add the spinach and cook until there is no longer any liquid left in the pan.  Season with the Sous Salt and Pepper.  While the mixture is cooking add the panko to the beaten eggs so they can be absorbed a bit. Add the cheeses and pine nuts to the spinach mixture and allow it to cool for a few minutes while you prep the phyllo dough.
Melt the butter in the microwave. Brush a light amount of butter on each of the 8 sheets.  Then gently move the phyllo dough into the pie plate, gently push the dough down to cover the bottom of the dish. You will have quite a bit over lap of the dough.
Add the egg and bread crumb mixture to the spinach mixture.  Then place the mixture on top of the phyllo dough and fold the remaining portion of the dough onto of the spinach mixture.  Arrange it artfully and brush with the remaining melted butter.
Bake until golden brown approximately 35 – 45 minutes depending on the heat of your oven.