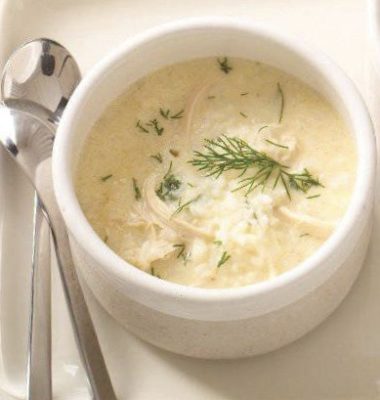 This rich thickness of this soup comes from the purée of a portion of the rice with eggs. The chicken is just touched with the stock to gently poach. Just the perfect amount of lemon to brighten all the flavors and you will never need another recipe for Avgolemono Soup again.  This recipe was morphed from Americas Test Kitchen…one of my favorite go to kitchens to learn from.
ingredients
1 1/2 lbs boneless skinless chicken breasts
12 – 3 inch strips of lemon zest
6 T lemon juice (3 lemons)
2 sprigs of thyme
1 t coriander
2 cardamom seeds
1 t peppercorns
Sous Salt Olive Thyme
1 garlic clove
8 c chicken stock (preferably home made)
1 c long grain rice
2 large eggs + 2 yolks beaten together
directions
Cut each chicken breast in half lengthwise so they resemble tenders. Toss with 1 3/4 t Sous Salt Olive Thyme and let them hang out at room temperature for about 30 mins. Cut a large square of cheesecloth and place the lemon zest, thyme, coriander seeds, peppercorns and garlic in the cloth and tie it together.
Bring the broth, coriander, rice and spice bundle to a boil in a Dutch oven or heavy saucepan. Reduce heat to simmer, cover and cook for 5 minutes.  Turn off heat, add chicken, cover and let stand for 15 minutes.
Transfer chicken to a plate to cool slightly. Discard spice bundle. Take 1 cup of the cooked rice and add it to the blender.  Just the rice not the broth.  Add lemon juice and eggs to blender and process until smooth. It will take about a minute.
Pull the chicken apart with either your fingers or two forks and add the chicken and any resting juices back to the soup. Return the soup to a simmer over high heat.  Remove pot from heat and stir in the egg mixture until fully incorporated.  Season with additional Sous Salt, pepper and additional lemon juice if desired.